Coast Spas host 20th Anniversary international dealer meeting in Vancouver
Coast Spas dealers from around the world met in Vancouver and Hawaii to see the launch of the Canadian manufacturer's 2017 product line that included four new hot tub models plus upgraded and updated standard features.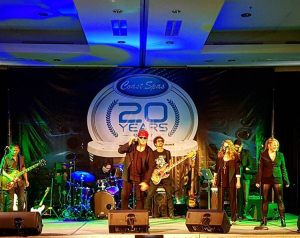 During their 20th Annual IDM (International Dealer Meeting), from January 9 to 15, Coast Spas dealers had the opportunity to network, discuss industry challenges and success strategies. In addition, Coast Spas had multiple presentations that encompassed social media, new product information and a large variety of additional information relating to Marketing and Sales.
As this was their 20th Annual IDM, dealers participated in a series of fun games that challenged their memory as questions were asked about Coast Spass' history. The winners were announced at the end of the meeting with all the correct answers placed into the new Wellness Infinity Ultra Swim Spa and drawn by Executive Sales Manager Sean Corscadden.
For their 20th IDM Coast Spas also laid on some incredible entertainment and food on both evenings. The first being an awards gala featuring polynesian dancers and music showcased in a tropically-transformed Grand Ballroom at the Sheraton Wall Centre in downtown Vancouver.
On the second and final night of the Vancouver leg of the IDM – Coast Spas secured supergroup Loverboy to perform in front of a huge crowd of excited dealers that ended up dancing the night away to an extremely lively and active Mike Reno on stage. After the performance, Reno mingled with the crowd taking selfies and autographing various items for star-struck dealers.
Coast Spas unveiled several new moulds for 2017 – from smallest to largest: The Element (a new 7 foot lounge spa), the Apex (a new 8 foot lounge spa), the Wellness II Party Spa (a swim spa with bench seating running down both sides) and the Wellness Infinity Ultra (a 17′ Infinity Edge Swim Spa). Coast Spas also announced some major upgrades and enhancements to their product line that will be rolled out to showrooms this year.
Now all Coast Spas Plug-In Patio Spas will  be upgraded to Coast Spas' Commercial-Grade Hydro Cyclonic Pressurised Filtration System, which the company claims is 83 per cent faster and 20 per cent more efficient than a skim filtration system that was previously offered on this line and is an industry standard for almost all other hot tub manufacturers.
The numerous aesthetic improvements include a newly designed Skimmer Filter Grate in both Gunmetal and two toned Gunmetal and Stainless Steel for high-end models.
Coast Spas has also redesigned and updated their lit diverter handle to reflect modern styling, showcased a newly engineered equipment-access door that simply clicks into the spa for rapid and simple removal and reattachment, branded their Hydro Cyclonic Filtration access point on the top of the spa and launched a whole new look to their entire line of digital spa controls.
Along with these changes, Coast Spas showcased their innovative Lit Waterfall Table that simply clicks into their exclusive Coast Connect Universal Fitting and gave a secret preview of other accessories that can be attached into the same fitting that is installed in the bottom of the spa and supplies both light and water to any attachment connected.
Other announcements made at this massive event include a redesigned and updated storefront for Coast Dealers to easily place orders for parts, accessories and products, upgrades as well as updates to their innovative Spa Builder Program that allows Coast Spas dealers to order, quote and automatically generate sales sheets for any spa, in any configuration.
Coast Spas also unveiled new literature, brochures, pricing, purchase incentives, POP material and training videos – most of which is available on their newly redesigned Coast Comm site – which is available exclusively to Coast Dealers and allows them access to a gigantic library of images, videos, documents and information on the Coast Spas line.
The new models that were unveiled at the IDM were the result of years of extensive research and development. The newly resigned 7 and 8 foot lounge spas went through a lengthy process of revisions as each design was extensively tested and retested by various-sized adults to ensure the perfect fit for all.
Along with the enhanced ergonomic seating layout, these moulds feature an improved top-lip design and acrylic corner design along with endless other aesthetic improvements.
New models
Seating 6 adults the new 7ft Element model, with a newly developed non-float lounger with integrated internal steps for entry and exit, is the perfect hot tub to fit the whole family, with small footprint for those pushed for space. The Element comes as standard with Coast Spas' Commercial-Grade Hydro Cyclonic Filtration System and several variations of jet quantities and standard features.
Next up is Apex, the new beautifully designed 8 foot model from Coast. The mould seats 7 adults and also features the newly developed non-float lounger. Large LED lit entry and exit steps are creatively integrated making for easy and confident entry and exit from the spa without sacrificing seating area.
The Apex comes standard with Coast Spas' Commercial-Grade Hydro Cyclonic Filtration System and several variations of jet quantities and standard features including an 80 Jet Anniversary Edition – which was displayed at the launch event.
Dealers often find potential customers are interested in the social aspects of owning a spa, as well as the numerous health benefits they offer. The new Wellness II Party Spa offers the perfect setting for socialising, with benching down each side of the tub to maximise space and seating capacity.
The Wellness II Party features dual River Jets for swim resistance and an integrated Swim Tether Anchor plate along with numerous massage hydrotherapy Jets.
Two years ago, Coast Spas unveiled the World's first and only portable Infinity Edge Swim Spa. Coast Spas was already leading the pack with their patented Infinity Edge Swim Spa (14 feet). But for their anniversary year, they have pulled out all the stops to create a brand new swim spa, packed with all the same amazing features – plus an extra 3 feet of swimming space.
Coast Spas now manufacture the Infinity Edge Ultra, which boasts a whopping 17 feet. The infinity edge ultra has all the features from the standard infinity edge plus some added bonus features. The Levator jets help keep the lower half of your body buoyant and Swimline guide lighting from the river jets helps you focus on where you are swimming towards.
It also introduces fully variable swim jets, that can be toggled from 0 to 100 per cent, allowing you to fully customise your swim experience. All that plus it has a lounger and cool down seat for the hydrotherapy benefits associated with a hot tub.
The Infinity Edge Ultra comes as a Performance 46 jet model or a Performance Plus 52 version. Both come with an anchor tether as well as row bars and exercise bars so your hydro exercise is not just limited to swimming.
To find out more about Coast Spas and its booming range of hot tubs and swim spas for the British market visit the Coast Spas stand at SPATEX from 9:30am to 5pm on Tuesday and Wednesday, and 9:30am to 4pm on Thursday in the Ericsson Exhibition Hall of the Ricoh Arena in Coventry.
For further details about SPATEX 2017 contact the SPATEX team via email: helen@spatex.co.uk or michele@spatex.co.uk or telephone directly on: +44 (0) 1264 358558.