Dealers soak up Coast Spas hospitality
Booming hot tub and swim spa manufacturer Coast Spas helped dealers soak up new product launch information during the 21st International Dealer Meeting by laying on world-class accommodation at the Westin Bayshore in Vancouver.
Coast Spas chose this stunning venue to accommodate dealers from around the world for the 21st anniversary edition of the IDM, in the first month of the New Year, as it provided the perfect setting; being located on the waterfront. From the venue, dealers were able to enjoy incredible views of Coal Harbour, majestic mountains, the ocean and the city of Vancouver; while enhancing their product and marketing knowledge throughout the two-day event.
During the IDM, new models and features were brought right into the Westin Bayshore venue so that dealers could take a close-up look at all the new innovations for the upcoming year. Among the highlights was the launch of a new Wellness Spa Hot Tub Series.
Besides introducing new product lines there was also an informative presentation given on the new Spa Builder 2.0 Application that was created by Coast Spas to save dealers time by automating and simplifying complex tasks with the exclusive program.
Special guest speaker David Riley provided a wide range of advice and valuable information; including an insight on how to dominate the market, create wealth, managing by the numbers, and retaining the right people.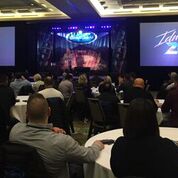 Presentations on the new Coast Spas product lines, new features and innovations, social media, marketing and sales also took place during the IDM to provide new and long-time dealers with valuable information.
The first night ended with a five-star dinner and an unforgettable Awards Gala in honour of all of the amazing Coast Spas dealer achievements during the past 12 months. To wrap up the IDM there was a massive celebration party with an exclusive rock concert featuring members from 'Jefferson Starship', 'Sweeney Todd' and 'Loverboy'.
"This successful event featured sales and marketing presentations, top-tier keynote speakers, networking, Awards Gala and an incredible celebration party with live entertainment," reported Coast Spas Marketing Manager Oran Wakelam.
"The IDM got all the dealers exited and eager to start selling the new and improved 2018 spa models."