Distinctive hot tub corners design unveiled
Canadian manufacturer Coast Spas has introduced a major aesthetic change to its hot tub production this year with the launch of distinctive 'Carbon Fiber Corners' that are an optional upgrade on the synthetic cabinet finishes.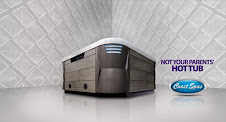 The new Carbon Fiber Corners design concept, pictured, is part of major enhancements that Coast Spas is promoting this spring to provide its thriving international dealer network with cutting-edge hot tubs and swim spas to stand out from other brands in the wet leisure market.
Attendees at the company's International Dealer Meetings in Vancouver, Canada and Colmar, France gained an exclusive preview of the new Carbon Fiber Corners design, which has been meticulously crafted to break up the traditional 'box-like' shape of the hot tub cabinet by bringing in the center of the corner profile in an hourglass-like side profile. 
All of the manufacturer's durable synthetic cabinet styles are formed from the same ultra durable and nearly indestructible composite materials that are used on the 'Luxury Slate Cabinet' finish and come with a specific colour-matched corner to accentuate the synthetic cabinet colour. 
As part of the innovative Carbon Fiber Corners design there are three exterior lights that are integrated into the top of each corner that match the interior lighting of the spa, when activated.  At night, the lights will glow a soft white, automatically illuminated as dusk falls by an included ambient light sensor. 
"Each corner has a very detailed and meticulously crafted carbon fiber texture that provides a tasteful contrast against both the smooth acrylic and textured synthetic cabinet finish," said Coast Spas Marketing and Communications Manager Oran Wakelam.