Double dates continue half century celebrations
Experienced hot tub and pool product supplier All Swim is hosting Open Days with specialist seminars as part of double date 50th anniversary celebrations to showcase a wide range of services and products.
To mark a half century in the wet leisure trade, there is a two-day opportunity for customers to save up to £2,000 on a hot tub purchase and take advantage of ten per cent reductions on all items during the Open Days on Friday and Saturday, September 2 and 3.
The deals are part of a bumper year of offers on hot tubs and accessories deals, which are being rolled out by the Cardiff-based WhatSpa? Professional hot tub dealership, which specialises in Caldera Spas, including the 2022 WhatSpa? Best Buy Award-winning Marino and Cantabria, and Fantasy Spas with the Best Buy Award-winning Drift, by Watkins Wellness that are supplied in the UK by Certikin.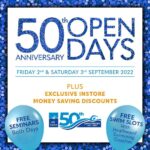 Special celebrations continue with the Open Days on Friday and Saturday, in the Penarth Road showroom that promotes a wide range of hot tub options from multiple brands, along with Endless Pools swim spas; as well as many associated accessories, including the recent addition of Remanso Luxury Pergolas.
Topical subjects, including how to reduce hot tub and pool running costs, will be covered during strictly pre-booked seminars over the two-day event. As part of the Open Days schedule, David Ramsden from Complete Pool Controls will also be conducting free seminars on how to look after hot tub water with professional guidance and water maintenance advice.
"This journey would not have been possible without a lot of hard work, focus and dedication on our part, and, of course, the support of our customers," said All Swim's Jane Veysey.
"We are running seminars with help from our suppliers to cover topical subjects like reducing running costs and David Ramsden will be staying around after his seminars to answer any questions.
"There will also be cake and fizz for those who attend. If anyone wants a slice of cake then they should get here early!"