Energy-saving splash for SPATEX 2023
Visitors to the special energy-saving edition of SPATEX 2023 have the advantage of gaining face-to-face product knowledge and professional training advice to help customers combat the cost-of-living crisis.
As part of an international line-up, representing 11 countries, a third of exhibitors are rolling out spas and associated products and services during SPATEX at the award-winning Coventry Building Society Arena. It is providing visitors with a unique opportunity to see the latest launches from over one hundred domestic and international suppliers and manufacturers, with 20 companies making their debut, while offering the opportunity to take advantage of professional advice and tuition during three days of seminars and training.
Sustainability and energy-efficiency is becoming a necessity and this is a central theme. From showcasing the newest innovations to hosting seminars on the latest money-saving recommendations, the 27th edition of the exhibition is helping to reduce energy consumption and bills.
Those visiting SPATEX 2023, running from January 31 to February 2, will be gaining solutions to prevent domestic and business customers from falling foul of poor quality products that are allowing too much heat loss and will send their energy bills to eye watering levels.
The spotlight will now be on new measures to offset the rocketing energy prices that have become a major concern for all hot tub owners and the SPATEX organisers have ensured this is now a top focal theme for the whole of the exhibition format.
"We aim to bring the topic of energy saving into sharp focus and make it a forum for discussion and finding solutions," explained SPATEX Organiser Michele Bridle
"With education, the latest technological advances and careful management, there are effective ways to significantly reduce energy consumption and bills. It's this positive message that, with the help of our exhibitors and experts, we aim to communicate to our visitors."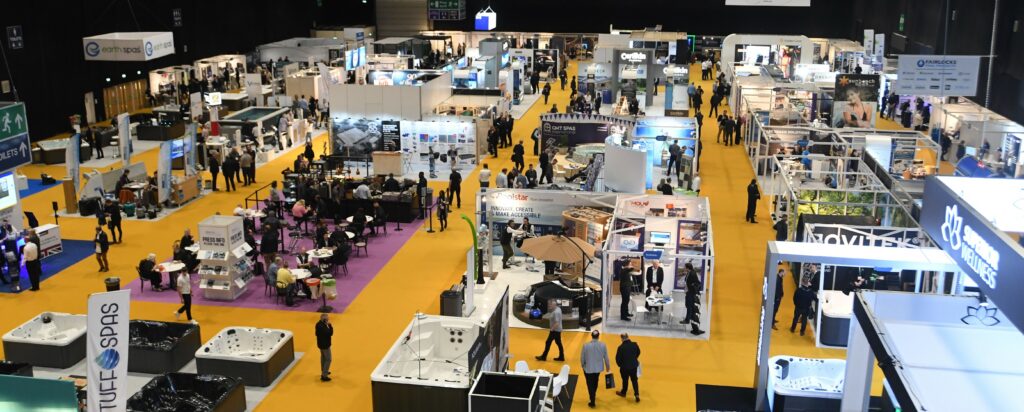 Companies from the hot tub and spa sectors making their Coventry debut include Bio UV, Clean Heat Leisure Ltd, Innovators International, Novellini (UK) Ltd, Rotospa, Marquis, Pennosan, and Rex Nordic UK.
They will be joining a bumper list of SPATEX regulars including: I Stop Spas Trade and Spatech Training, Aqua Excellent, Aqua Warehouse Group, Aquafinesse (UK), Astralpool UK Ltd, Balboa Water Group, Blue Whale Spa, Certikin Ltd, Chinese Spare Parts, Darlly Europe, Elecro, GMT Spas International Ltd, Golden Coast Ltd, HTH-Solenis, ITS Europe, Kuntze, LCA, Lo-Chlor Chemicals, Lovibond, Marquis Spas, MSPA UK, O-Care, Paragon Stainless Products Ltd, Passion Spas, Plastica Ltd, Piarpi, Poolstar, SCP UK Ltd, Spa Part Vortex, Spa Solutions, Spaflo Ltd, Spanet, Speck Pumpen, Sunbeach Spas, Suntrap Systems, Superior Wellness, Thermalec Pool & Spa Products, Water Treatment Products, Wellis and Wellis Parts.
"We have never had so many companies selling spas, hot tubs and accessories gracing the stands of SPATEX before," revealed Michele; "Some of these will be filled with water so you can see them in operation.
"In amongst all the familiar names, there's a lot of new companies making their debut that we are very much looking forward to welcoming. If you want to know anything about this sector of water leisure, SPATEX 2023 is your starting point.
"The number of new products for this year's edition is quite staggering. There's something to interest everyone from new ways of exercising in swim spas in your home, relaxing hot tubs, light commercial spas for the hospitality sector and new entries in all the ancillary equipment.
"For instance, there's a new water treatment product made from the recycled shells of shellfish that were destined for landfill. It really is a very dynamic, innovative market."
Those that take advantage of the three-day free training and seminar schedule, with the help of the Institute of Swimming Pool Engineers (ISPE), will gain an advantage from 41 new talks and a strong combined focus on operational enhancements with a greater prominence for the latest innovations designed to help hot tubs become more efficient, such as air source heat pumps.
Not only will the advanced air source heat pumps help owners to heat up their hot tub water rapidly, they will also help to reduce energy consumption and as a result provide an eco-friendly and more efficient way of reducing running costs throughout the year.
"With education, the latest technological advances and careful management, there are effective ways to significantly reduce energy consumption and bills," explained Michele.
"There's no better place to seek advice from an expert, and all for free! Call in at the SPATEX Help Desk at the entrance to the Arena and the team will be happy to point you in the right direction."
After the first day of SPATEX, BISHTA and SPATA will be bestowing their latest prestigious awards during the 2023 British Pool & Hot Tub Awards ceremony that is also being hosted at the Coventry Building Society Arena on January 31.
Then on the following day, the Swimming Teachers' Association (STA) are also using the exhibition as a platform for launching their month-long Swim to the Beat campaign during the second day of the wet leisure showcase on the Aqua Warehouse Group (AWG) stand to raise awareness and valuable funds for the British Heart Foundation.
From 10.30am, on Wednesday, February 1, swimmers are taking part in a series of sponsored aquatic exercises, including STA's Zoe Cooper, a member of Aquabatix, the world's leading professional synchronised swimming team, who has featured in 'The Rocket Man' and 'The Muppets' films and 'Britain's Got Talent'.
Following the second day of SPATEX, organisers are going to be helping to make a networking splash with free drinks and food while hosting the annual Networking Evening in the Clubhouse Bar within the Arena building.