Expo team planning shared LIW format
Hot Tub Living Expo organisers New Events Ltd have announced that they are drawing up plans to extend its run at the Birmingham NEC next year by amalgamating it with Leisure Industry Week.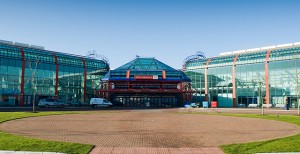 Following changes to the former UK Pool & Spa Expo three-day format the New Events team placed the main focus of the exhibition on attracting specialist brands and distributors of hot tubs and swim spas, along with outdoor lifestyle product suppliers, for the latest two-day edition that took place last week under the new name of Hot Tub Living Expo at the NEC.
While the market has been reporting booming sales, leading WhatSpa? and WhatSwimSpa? Best Buy Award-winning brands including L.A Spas, Vita Spa, Wellis and Superior Spas were joined by just a small contingent of additional hot tub and swim spa suppliers. These included Alps Spas, Passion Spas, Platinum Spas, and Viking Spas.
Although Aqua Spa Supplies, a division of Aqua Warehouse Group, and BAYROL were among the stand out UK-based product specialists; along with 1 Stop Spas chief Chris Brady and his stand to promote DryCase and SteelCore products along with his fledgling SpaTech Training; there had not been enough commitment from other outdoor product exhibitors to fully accommodate Hall 11 at this year's showcase. This has prompted the organisers to begin the process of linking up with Leisure Industry Week (LIW), which is the UK's largest trade show dedicated to the leisure industry.
New Events Director Rob Saunders has confirmed that discussions are now taking place to tie in the Hot Tub Living Expo with LIW, which was purchased in mid-2015 by the organisation responsible for producing BodyPower.
Pre-show strategy for this year's LIW, which attracted over 150 exhibitors and thousands of delegates during two packed days of the leisure showcase, was to position the event as a hub for workforce development with education taking priority. Distinct education stream were established in Spa & Wet Leisure, Sport, Play, Facilities Management, Fitness (including Practical Coaching and a FitnessBusinessSchool) and Health. The policy paid off with large levels of footfall.
"Given the additional time and resource we had to prepare for LIW this year we've taken into account the viewpoint of some extremely influential people within the industry to implement a show that reflects the state of leisure and delivers in areas that need improvement," said LIW Show Director Steve Orton.
"Our tailored educational programmes, excellent features, exciting interactive areas, ground-breaking product launches and hundreds of exceptional brands made the show a clear success.
"We're already planning next year's event and we'll have some fantastic new additions to make LIW 2017 even bigger and better.
Rob revealed that the established exhibition would welcome additional exhibitors as part of a process to regain lost ground in attracting hot tub, swim spa and pool companies, but stressed that New Events would have full control over a designated area for wet leisure exhibitors as part of potential future involvement with LIW at the 2017 event running on September 12 and 13.
"We've already started the process and are currently making plans to integrate the Hot Tub Living Expo into Leisure Industry Week that is taking place once again in September next year," said Rob.
"If it does come off, our intention is for us to have full control of the wet leisure element within the LIW format. This is an established exhibition and it has the obvious potential to help promote wet leisure companies, and the hot tub and swim spa brands they represent, alongside other leisure exhibitors."
To find out more details about exhibiting as part of the new format for 2017 contact the team at New Events directly on + 44 1428 609 382 or email via:info@neweventsltd.com