Fantasy Spas hot tubs for UK
Fantasy Spas UK hot tub distributor Certikin International has highlighted that the USA manufactured entry-level range is not available from their Italian counterpart that has just been exhibiting at the Forum Piscine Pool & Spa Expo in Bologna.
Certikin International, which distributes the Caldera Spas hot tubs as well as the Fantasy Spas hot tub brands by Watkins Manufacturing, has boosted its offerings this year to British retailers with the new availability of the range of robust 'plug and play' models that were promoted at SPATEX this month. Although a previous article mentioned Certikin having launched the Fantasy Spas in the UK, unfortunately for Italian hot tub retailers visiting the Forum Piscine Pool & Spa Expo, Certikin Italia does not have this brand, or Caldera Spas, to distribute to the wet leisure market.  
"Certikin Italia that was involved in the Forum Piscine Pool & Spa Expo have a completely different product range to ours," said Certikin International Marketing Manager Cath Saunders.
"They have their own ranges but the Caldera Spas hot tubs and Fantasy Spas hot tubs are definitely not available from them."
Certikin International has launched the trio of Fantasty Spas hot tub models, which include the three-seater 'Embrace', four-seater 'Drift'and five-seater 'Entice', to expand its share of the UK hot tub market.
The 240v rugged 'plug and play' Fantasy models have the convenience of being able to be plugged into a standard socket to power the topside electronic controls for temperature, lighting, and water flow pressure control convenience. They offer a dual speed therapy system to allow users to enjoy the comfort of warm water while being gently massaged, or have the ability to increase the power for a more vigorous deep-tissue massage.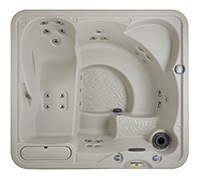 With a dry weight of 380lbs and coming in at 7'2"x 6'5" x 33", the Entice, pictured, features a lounge seat and sweeping bench seat; 27 jets, including calf and foot jets; and has a water capacity of 260 gallons. A Therapy Seat allows users to relieve muscle tension with a deep tissue massage from the jets to target the pressure points in the neck and shoulder.
Coming in at 70"x 62"x 33", the Drift has a 218 gallon water capacity and dry weight of 276 lbs, incorporates 17 jets, two captain's seats and a waterfall feature that is adjustable to provide a full stream or shut off completely. Like its Fantasy Spas stable mates, it has been designed with multi-colour LED lights and full foam insulation.
 The Embrace, with its diminutive unique shape, is the smallest Fantasy Spa range option currently available to UK hot tub retailers. It comes in at 72" x 72"x 31"and has a dry weight of 302lbs and 205 gallon capacity. Two ergonomic seats are featured within the design, along with a 'cool down' area, and there are 17 jets that include dedicated foot and wrist jets
All three models have two colour options of Granite or Sahara and have been designed to be virtually impervious to the elements, as well as being easy to clean. Hydrotherapy jets have also been included in the design, to allow users to target neck and shoulder muscles.
Top-loading filters have been designed for easy access and quick cleaning capability; while standard equipment includes a grey ATSM safety cover, with locking clips, which incorporates advanced materials that are utilised in high-end spa covers.
"This is an ideal range for retailers with customers that are looking to take their first step into spa ownership with a user-friendly entry-level model," said Cath.
"They can buy with the knowledge that Fantasy Spas is a brand with inherent heritage, as a member of the Watkins Manufacturing family, the world's largest manufacturer of premium hot tubs who also manufacture the Caldera Spas range."
Spearheading the Fantasy Spas UK hot tub promotion to existing Caldera Spas dealerships and other retailers requiring rugged entry-level options for their showrooms ranging in price from £3,042 to £4,157, is Certikin International Director Ben Studdy.
"We are making them available to all UK hot tub retailers who want to supply them as entry-level options in their showrooms," reported Ben.
For further details about becoming a Fantasy Spas UK hot tub retailer or Caldera Spas dealership call Certikin International on 01993 778855.