Fantasy Spas showroom boost
Caldera Spas hot tub dealership Prestige Swimming Pools has given its showroom an extensive refurbishment to cater for the arrival of new Fantasy Spas models and increased demand for hot tubs this year.
Manager Graham Wall believes the future is looking bright for the showroom, which is supplied by Certikin International, located near the A30 at the Winkworth Business Park in Hartley Wintney, Hook. It also promotes the USA manufactured Cove Spas hot tub range from SCP UK.
Graham reported that the dealership has been gaining increased interest from potential customers and he believes the introduction of additional new Fantasty Spas models, distributed by Certikin from Watkins Manufacturing, into the revamped showroom setting will provide an extra boost to sales.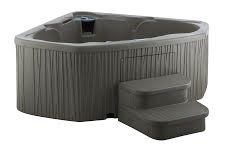 The new Fantasty Spas trio of the three-seater 'Embrace', pictured, four-seater 'Drift', and five-seater 'Entice', were promoted during SPATEX by Certikin for hot tub retailers requiring rugged entry-level options for their showrooms ranging in price from £3,042 to £4,157.
"We have just completed our extensive refurbishment work and we are very optimistic about the future," said Graham.
 "We get thousands of motorists coming past our showroom site along the A30 and so, as part of our refurbishment, we have erected a new sign to attract additional customers
"There has been a lot more interest from people visiting our showroom. So things are looking good and we are confident about this year."
www.prestigeswimmingpools.co.uk