Franchise promotion during SPATEX Virtual
Award Leisure Franchise has booked into the online SPATEX Virtual platform to showcase a choice of franchise options that incorporate proven hot tub products including the WhatSpa? Best Buy Award-winning range of British Hot Tubs.
As part of its online appearance during SPATEX Virtual, being hosted on the vFairs platform this week from Tuesday, February 2, to Thursday February 4, family-run Award Leisure Franchise is going to be giving the British Hot Tubs brand its SPATEX debut and highlighting the fact that there are 'strong returns' and a host of advantages to be gained when undertaking a choice of Premium Dealership (Limited Availability) or full 'One-stop-shop' Franchise opportunities on offer. These are being provided by an award-winning supportive team based at the Spa House head office in Dordon of Award Leisure Warwickshire that has vast experience of the hot tub and swim spa market, as well as associated outdoor products, such as outdoor saunas and garden structures.
Simon Baggaley of Award Leisure Birmingham based in Highfield Road, Hall Green, has already gained the benefit of this franchise initiative and has praised the Award Leisure Franchise team for their support.
"I've had excellent support and engagement from Award Leisure throughout the process," divulged Simon; "I get the feeling I'm part of a team working towards a common goal – opening a new outlet in a new territory for mutual benefit.
"I feel the franchise model they have put together is very professional and well run."
This year a wide choice of British Hot Tub models, being promoted at WhatSpa? Approved seven Award Leisure showrooms including a newly-launched Award Leisure Cambridge location in Huntingdon Road, Swavesey, will be complemented by a 'proudly designed in the UK' range of swim spas. These will provide 48 variations for prospective customers; which allows owners to have the capability to build a swim spa that can be specifically produced for their own personal requirements.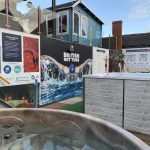 Award Leisure has reported that British Hot Tubs, which feature Eco Zone Insulation as part of the manufacturing process that is ISO checked and complies with a 284 point quality control checklist, came off the production line and into Award Leisure showrooms last year following 12 months of investment and a huge budget in creating the right factory partnership, the right designs, and the right processes.
"This is important to us to ensure that our customers will buy a product that is reliable, safe and energy-efficient," explained Mike Massey from Award Leisure; "British Hot Tubs have built a real success story that dealers can be part of.
"For 2021 we are launching an unrivalled 'proudly designed in the UK' range of swim spas with 48 variations. Customers will be able to build a swim spa that works for their lifestyle."
The UK-designed British Hot Tubs range, including what has been proclaimed as the 'largest and most spectacular hot tub in the World' in the form of the Britannia, has been bestowed with 2020 WhatSpa? Best Buy Award status and a 'hat-trick' of 2021 WhatSpa? Holiday Park Best Buy Awards. These are for the three-seater Mercury, which comes in at 212 x 150 x 83cm; the five-seater Westwood, which comes in at 208 x 177 x 85cm; and the seven-seater Sterling, which comes in at 234 x 234 x 93cm.
Award Leisure Franchise is now providing 'smart investors' with the opportunity to supply these hot tub models and the new swim spa designs within the franchise structure that is being supported by comprehensive branding and high quality point of sale materials, which are being promoted on the SPATEX Virtual exhibition platform this week and available for reference on the dedicated site throughout February.
The Award Leisure Franchise digital booth during SPATEX Virtual will be highlighting that this is a business model proven to deliver strong returns, that is an ideal opportunity for smart investors with a passion for outdoor leisure, from an investment cost approximately one-third of that required for a traditional outdoor leisure showroom,
Experienced hot tub and swim spa retailer Adrian Lee of Award Leisure Cheshire, developed from the successful Outdoor Heaven showroom based in Mobberley Road, Knutsford, has become part of the network to take advantage of the top quality products that he believes places his showroom at an advantage over competitor wet leisure retailers.
"The product range we sell is over and above the competitors," revealed Adrian; "Everyone that comes into my showroom is looking to buy."
Registration for SPATEX Virtual is free and takes seconds to complete at: https://spatexvirtual.vfairs.com/en/registration This provides access to all the SPATEX Virtual exhibitors. Opening hours for the live days of SPATEX Virtual are 9:30am to 5pm on all three days, and then the online platform by vFairs will remain accessible for 30 days.
Preferred browsers for the platform are Google Chrome, Firefox, Safari, and Microsoft Edge, and to log in go to: www.spatexvirtual.vfairs.com
www.awardleisurefranchise.co.uk
www.awardleisurewarwickshire.co.uk
www.awardleisurecambridge.co.uk
www.awardleisurebirmingham.co.uk
www.awardleisurecheshire.co.uk