Global strategy with ground breaking factory
Booming UK hot tub and swim spa distributor Superior Spas has announced ambitious global growth plans after breaking ground on a gigantic factory in China to ensure complete control of its own brand manufacturing.
Superior Spas has proclaimed that its new state-of-the-art 400,000 sq ft factory, located in HuBei, will be the largest hot tub manufacturing facility in the world and will give the company the capacity to further expand into manufacturing for other hot tub firms. Coupled with a new distribution centre being constructed in Chesterfield, the radical growth strategy will see the rapidly expanding outfit become one of the largest spa and hot tub firms in the global market at a time when many businesses are struggling to shake off post-Brexit fears.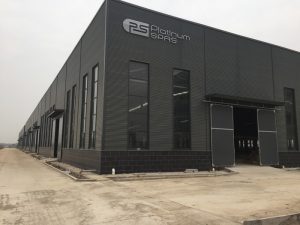 Managing Director Rob Carlin believes that the very ambitious plans and radical move to build a new production facility in China, pictured, will be a 'game changer' for Superior Spas; while helping to create substantial additional job opportunities as part of targeting growth outside of Europe.
"This is a very exciting time for Superior Spas and we are striding forwards with confidence as we realise our very ambitious growth plans," said Rob.
"Having our own state-of-the-art manufacturing facility is a game changer for the Superior Spas brand and one that will elevate us to an international presence outside of Europe for the first time.
"This will also mean we create more jobs, bring more to the local economy at home and generate more export and import business."
The firm initially expects to create 20 new jobs in the UK and hundreds of new roles in China. Production at the factory will commence in March with Superior Spas products being moved from the current manufacturer to the firm's own factory over the course of the next 12 months. The firm's full range of Platinum Spas and swim spas will be taken in-house.
Sales Director Gareth Ward has reported that the colossal Chinese factory will maintain a stock of 2,000 units and provide the capability to produce bespoke designs for clients and allow Superior Spas to extend its customer base throughout the world.
"When the brand new Superior Spas factory comes online fully in March of this year, we'll be able to stock 900 hot tubs in the UK at any one time as well as keep over 2000 units in stock in China," said Gareth.
"What's more, this means we can explore new business partnerships with the option to extend manufacturing services to other hot tub brands looking for a specialist manufacturer for their own product lines.
"Our clients will have the option to build their own brand of spas in our factory, give us more opportunity to grow our product range and customer base."
Superior Spas Head of Marketing Rob White believes the move will provide total control over production and provide the capability to cater for demand from a global audience.
"Having our own manufacturing facility is massive," declared Rob; "It means we can control every aspect of quality and production schedules, reduce costs, create jobs, open up big new markets and give us the opportunity to sell to a worldwide audience from one of the most prosperous regions in the world."
After achieving success through its hot tub and swim spa dealer network in the domestic market with WhatSpa? Best Buy Award and WhatSwimSpa? Best Buy Award-winning models, Superior Spas has also set its sights on gaining a major share of the hot tub holiday market after Sykes Holiday Cottages, the UK's leading and fastest-growing independent holiday home provider with a vast portfolio of more than 10,000 properties, signed an 'Approved Supplier' deal with the company last year for its new range of Holiday Let Hot Tubs.
This range has made an immediate impact with the holiday park trade audience and recently gained an additional boost after being bestowed with a brace of WhatSpa? Holiday Park Magazine Best Buy Awards in the inaugural edition of the trade publication.
Coming in at 195 x 195 x 90cm, the six-seater Superior Spas Holiday Let 6; which incorporates a lounge seat in its design; has made an award-winning debut in the magazine, along with the imposing eight-seater Superior Spas Holiday Let 8; which comes in at 348 x 234 x 117cm and also has a lounge seat incorporated in its design.
Demand has grown for domestic hot tubs that can be used to help comply with HSG282 during the past year since Superior Spas launched its dedicated options to the holiday park market and the company's
Superior Spas Operations Manager John Harrold revealed that demand from the holiday park sector has grown in the past year and believes more hot tubs will be appearing on sites in the future to help increase booking demand even further for hot tub holidays.
"Hot tubs are helping holiday parks to generate high levels of bookings," said John. "Since we've launched our own dedicated models for this sector we've had Sykes Holidays come on board and there has continued to be a lot of interest and demand from this sector."