Historic appointment at Coast Spas
Coast Spas Holdings has announced the historic appointment of Patricia Diamente as President and Chief Executive Officer to succeed Don Elkington, the Founder and CEO of Canadian hot tub and swim spa manufacturer Coast Spas.
As part of the announcement; it has been reported that Don is set to remain very active with Coast Spas Holdings as Chairman of the Board. He will also continue to support the hot tub industry as Vice-Chair of the International Hot Tub Association (IHTA).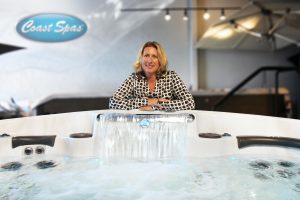 Following a lengthy recruitment process to find his successor; Don has revealed that Patricia Diament, pictured, is a highly experienced, successful and capable business leader, with a proven track record of driving growth, innovation and strategic partnership alliances in small, medium and large organisations. She brings a diversified background of product branding experience, retail/wholesale/showroom marketing and management, manufacturing and supply chain in closely related industries.
"After an extensive 15 month recruiting process, I'm pleased to announce that the Board of Directors and I have selected a strong leader to take the reins and continue Coast Spas' vision and strategy of providing world-leading quality products and innovation," said Don.
When Don created Coast Spas over 22 years ago his vision, after many previous years in the retail side of the industry, was to create the 'World's Best Built Spas' and become the leading innovator of high-end hot tubs and to change the market.
The commitment to this vision has proved a recipe for success over the past two decades, in which Coast Spas has evolved not only in Canada, from its manufacturing facility in Langley, but also on the international hot tub and wet leisure stage. For nearly half of his time at the helm, Don has also seen his company bestowed with a host of WhatSpa? Best Buy Awards and WhatSwimSpa? Best Buy Awards in the various price ranges of the consumer magazine.
He has reaped the rewards for insisting on top quality innovative production and high-profile marketing, combined with attendance at major wet leisure exhibitions, which has resulted in an extremely strong commitment to the brand from hot tub and swim spa retailers in the flourishing Coast Spas dealer network; encompassing more than 40 countries throughout the world, which have been promoting the launching of cutting-edge new features and models this year.
These include the Coast Spas Apex B and Element B designs, which have all new bucket seating to replacing the lounge seating incorporated in the original Apex and Element models, which were worldwide best-selling hot tubs in 2017. All Apex and Element Spas are now available with a 'Curve Upgrade' that features Coast Spas' exclusive 24″ waterfall on a raised protective curved back for owners to take advantage of the 'Largest Hot Tub Waterfall in the World'.
One of the many examples of innovation from the Coast Spas' production line has been the patented 'world's only vanishing infinity edge' portable hot tubs and swim spas design that continues to evolve year after year.
As part of its dedication to innovation, Coast Spas was the first manufacturer to offer many of today's standard hot tub features; such as underwater lighting prisms, laminar rope jets, tri-lever jets, and stereos in spas, which are just a few examples.  Many of these are now commonplace on modern hot tubs and the direct result of Don's passion and determination to revolutionise the industry.
Don believes that the new CEO has the credentials and track record to ensure that the future is going to be exciting for Coast Spas and its dealer network, as part of the next chapter in its history, after making such a major impact in the wet leisure industry for the past two decades.
"Patricia's track record is exactly what we need as we enter the next phase for Coast, which I am confident will be even more impactful and exciting than our last," said Don.
"I look forward to working with Patricia as she transitions into her new role."
Making an immediate impact in the British market this year, the eight-seater Apex B 82, coming in at 234 x 234 x 102cm (120cm at the back), has gained a WhatSpa? Best Buy Award in the £10,000 to £14,999 price category of the 2018 edition of the consumer magazine.
Also, with the exclusive raised back in its design, the seven-seater Classic Horizon 40, which comes in at 211 x 234 x 82cm (116cm at the back) has achieved a WhatSpa? Best Buy Award in the lower £8,000 to £9,999 price category.
After gaining a successive WhatSpa? Best Buy Award, the imposing eight-seater Coast Spas Mirage Curve 82, which incorporates a lounge seat and comes in at 335 x 234 x 102cm (120cm at the back), has claimed another accolade for the manufacturer in the £15,000 Plus price category.
This year Coast Spas has also achieved WhatSpa? Best Buy accolades for hot tubs in the specialist Regency Spas range.  These are for the five-seater Regency Spas Baron; the six-seater Regency Spas Grand Duchess 50; and the six-seater Regency Spas Prince 50.
Coast Spas swim spa dealers have also been promoting the fact that the manufacturer has achieved a 'hat-trick' of WhatSwimSpa? Best Buy Award honours in the latest edition of the specialist swim spa consumer magazine.
These Best Buy accolades were bestowed on the Regency Spas Empress: the Coast Spas Wellness II Lounger, and the Coast Spas Wellness Infinity Ultra.
Coast Spas was recently rewarded for its strict commitment to the highest levels of quality production and service by achieving ISO 9001: 2015 Quality Management Systems (QMS) certification through the world leading certification company SGS Systems.