Home advantage for latest promotions
Thriving hot tub and swim spa manufacturer Aquavia Spa will be aiming to capitalise on home advantage for its latest promotions of new designs during the Piscina & Wellness Barcelona 2017 wet leisure showcase.
Ahead of a consecutive outing to highlight its 'Made in Europe' credentials as an exhibitor at the Gran Via venue of the global aquatic exhibition, running from Tuesday, October 17, to Friday, October 20, Aquavia Spa has extended its hot tub provision to its growing dealer network with a new Touch design and has been promoting a new online fitness tutorial initiative as a follow up to the launch of the Fitness Spa.
The three-seater Touch hot tub will receive its official trade debut during the Piscina & Wellness Barcelona exhibition and now joins the round Sundown Spa, and diminutive two-seater Calypso Spa hot tub models among the Aqualife range as part of the growing options for current and prospective dealers that also include hot tub designs from the additional Exclusive, Premium, Professional, and In-ground ranges.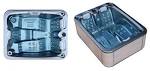 Coming in at 216 x 167 x 74cm, the Touch has been launched to help dealers to target couples and prospective customers who require a compact and ergonomic design, which incorporates twin loungers and 42 jets.
After being proclaimed by Aquavia Spa as the most compact swim spa on the market during its launch to the British trade audience at the 21st anniversary edition of SPATEX earlier this year, the Fitness Spa has gained a 2017 WhatSwimSpa? Best Buy Award in the £15,000 to £24,999 price category of the consumer magazine.
Coming in at 4m x 2.3m x 1.36m and with a 6,000 litre water capacity, the Fitness Spa's bathing area is designed for both swimming and multiple aqua fitness disciplines that users are being encouraged to adopt with a new online promotion as part of a complete fitness session.
The hydromassage area within the spacious yet compact design incorporates a lounge seat and two additional seats. It has two stainless steel bars which users can hold onto while performing exercises that require more balance, and four powerful counter-current water jets that allow occupants to swim or walk in the water.
Available as an in-ground or above-ground model, the Fitness Spa also has the option of the 'Fitness Pack'. This provides a set of user-friendly accessories that are easily incorporated into the Fitness Spa, allowing users to work different muscles with greater precision.
Among the accessories is a pole and harness that can be installed at one end of the Fitness Spa. This allows users to swim comfortably and not have to worry about moving forwards. Elastic bands are also provided in the pack to help users perform various fitness exercises. These are installed using the Fitness Spa's stainless steel bars. The elastic bands are used to combine different exercises, which can be performed in different positions.
Two oars can be installed on the wall of the Fitness Spa in addition to elastic bands that allow you to adjust the tension for a better muscle workout while in the central seat, which is the natural position for rowing. Additional 'optional' extras for the Fitness Spa include the ECOSpa isolation option, which helps reduce maintenance costs; as well as the Surround Audio Bluetooth option.
Aquavia Spa dealers also have additional swim spa options in the form of the Amazon, Atlantic, and Yucatan designs from the advanced Catalan production facility.
After the appearance on 'home turf' at the Barcelona showcase, Aquavia Spa will attend Aquanale in Cologne, from November 7 to 10, before achieving a hat-trick of consecutive SPATEX appearances early in the New Year as part of a greater stand presence to follow on from its outings as an exhibitor at SPATEX 2016 and 2017 that have been backed up with consumer advertising campaigns in WhatSpa? and WhatSwimSpa? as part of the flourishing manufacturer's commitment to its fledgling British showroom network, which includes WhatSpa? Approved West Sussex-based dealer Euphoria Lifestyle.
As part of its marketing initiatives to prospective dealers Aquavia Spa is promoting the fact that it can guarantee quick supply of products from its cutting-edge production facility in Cervera, Lleida, near Barcelona, that is producing pedigree hot tubs that include the 2017 WhatSpa? Best Buy Award-winning five-seater Cube Ergo design.
Coming in at 231x 231x 78cm and with a price tag of just over £20,000, the four-seater Cube Ergo has been praised for its stylish design that incorporates twin lounge seats in the WhatSpa? Verdict in the over £15,000 price category.
Further details of Aquavia Spa's complete range of hot tubs and swim spas can be obtained from the manufacturer's Stand 149 in Hall 1 of the Gran Via venue during Piscina & Wellness Barcelona 2017; and on Stand C60 in Pavilion 6 during Aquanale.