Hot tub brand bowled over by praise
Arctic Spas have been bowled over by praise after a hat-trick of main sponsorship deals at Worcestershire CCC to help deliver corporate funding to the club and promote the hot tub and swim spa brand.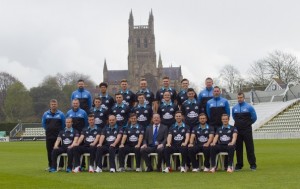 Worcestershire CCC, currently in second place and battling to gain promotion from Division Two of the Specsavers County Championship, have declared that they are proud to have the hot tub and swim spa specialists as their main sponsor for a third successive year this season with the Club's General Manager Jon Graham admitting that the partnership with the British division of the Canadian manufacturer could not have gone much better during previous seasons.
Arctic Spas, which has East Lothian-based quadruple 'UK dealer of the Year' and WhatSpa? Approved retailer Advanced Arctic Spas in its network of dealerships, initially became involved at New Road in 2013 as Worcestershire's T20 sponsor before signing a three-year deal to be the County's Main Sponsor from 2014 onwards. It is a link up that has been successful for both parties with Arctic Spas getting nationwide exposure via their famous polar bear logo during several televised matches – including last summer's first ever home T20 quarter-final.
However the Arctic Spas brand, which has received a 2016 WhatSpa? Best Buy Award for the six-seater Klondiker Epic and a 2016 WhatSwimSpa? Best Buy Award for the Arctic Spas Wolverine that is equipped with the new Niagara Swim System, has also been ingrained into thoughts of supporters and members with the polar bear logo on club shirts evident around New Road and throughout the city.
Their presence has also been significant at New Road during the past two seasons via hot tubs, smoke houses, a purpose-built showroom for all match days, a grill-house stand and platform next to the Graeme Hick Pavilion.
For NatWest T20 Blast matches, two additional hot tubs are provided to form a VIP area next to the players' dugouts under the main scoreboard. Arctic Spas is also sponsoring WCCC's 12-hour spectacular 'Concert of Legends' event that will see live performances of UB40, Lulu, Tunde Baiyewu, Heather Small, Alexander O'Neal, The Real Thing, Bootleg Abba, Jamie Knight & The Manuka Band, The GT's and The Magoos, on September 10 at New Road as part of the club's biggest ever concert.
Arctic Spas President David Martin regularly attends matches at New Road, particularly in the T20 format, and he has been praised by Jon Graham for being enthusiastic about the future of the County on the field with their young, talented players.
"As far as main sponsors go, I personally couldn't ask for anymore," said Jon. "David has been incredibly supportive, attends all the functions, and the club has gained a lot of business from people who know the Arctic Spas brand."
"I don' t think it could have gone too much better and we are looking forward to really pushing on and who knows what the future brings. David is happy with the way things are going but like any partnership, we certainly wouldn't take it for granted."
David Martin revealed that he was delighted about continuing the sponsorship deal especially as the club has managed to keep hold of their young exciting team.
"We are delighted to have this fourth year with Worcestershire," said David; "One as T20 sponsor and this year and the previous two as the Main Sponsor.
"It is a great club to work with and, being a local company for 20 plus years, it is great to put back something into the area and to be associated with a club with 150 years of tradition is great for ourselves.
 "It is a really good partnership. I am happy with the way it has gone the last three years."