Hot tub brands flocking to SPATEX
SPATEX organisers have announced that hot tub market specialists have flocked to book exhibition space for the 21st anniversary edition of the wet leisure showcase that is returning for the fourth time to Coventry's Ricoh Arena.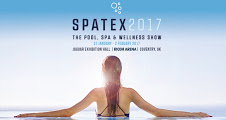 Building on SPATEX 2016's widespread success, major players in the hot tub market have announced their intentions to take part in the 2017 outing in the Ericsson Exhibition Hall of the Ricoh Arena as part of a new mid-week format that is running from Tuesday, January 31, to Thursday, February 2.
Caldera Spas and Fantasy Spas distributor Certikin International and Spa Crest Europe, hoping to build on its Tuff Spas distributor status, will be among the SPATEX stalwarts who will be joined by Canadian hot tub and swim spa manufacturer Coast Spas that has launched an innovative range of new products and enhancements to its portfolio this year that will be showcased during the brand's second successive appearance at the Ricoh Arena.
European heavyweight manufacturer Wellis and its Superior Spas counterpart has also booked exhibition space to build on this year's inaugural SPATEX appearance and distributor Rob Carlin will be aiming to expand his dealer network during the event.
Meanwhile, wet leisure product specialist Aqua Spa Supplies, part of the Aqua Warehouse Group that distributes L.A Spas and Vita Spa hot tubs and swim spas, will be among the wet leisure product specialists vying for new trade customers
Among the other exhibitors already confirmed for SPATEX 2017 targeting hot tub and swim spa dealers are: Aquafinesse UK, Elite Spas, GMT Spas International, Golden Coast, Hydrospares, Inbeca, O-Care, Passion Spas, Pollet Pool Group, SCP UK, Spa Parts Vortex, Speck-Pumpken and Villeroy & Boch.
SPATEX organiser Michele Bridle is naturally delighted with the response from the hot tub sector and is expecting another sell out show. boosted by a strong contingent from the pool market, following the success of the third outing in Coventry.
"Some of the biggest names in the business are amongst the spa companies that have so far signed to exhibit," said Michele.
"SPATEX 2017 has taken up where this year's show left off.  I am delighted that so many spa companies have chosen us as their exhibition of choice with many of them taking the opportunity to unveil new products. SPATEX can justifiably claim to represent both the spa and hot tub sector as well as the pool trade.
"It is clear how the exhibition has evolved over its 21-year history to make it the great annual industry-wide event that it now is."
To book stand space for SPATEX 2017 contact the SPATEX team via email: helen@spatex.co.uk or michele@spatex.co.uk or telephone directly on: +44 (0) 1264 358558.