Hot tub dealership in media spotlight
Artesian Spas hot tub dealership H2O has been under the spotlight in the Exeter Express and Echo as part of a business feature on IJ Cannings & Son Ltd's Managing Director Bradley Cannings.
The 'People behind the business' article is a regular feature by the newspaper on Exeter-based business people and highlighted that swimming pools and hot tub division H20, which is also featured in the latest edition of Hot Tub Retailer magazine, is one of three main I J Cannings & Son Ltd brands that also include Cannings Building Services Engineers, and Cannings Energy-Renewables.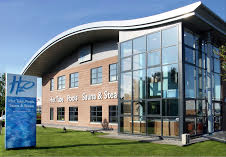 Last year the company launched its refurbished lavish Exeter showroom, pictured, after increasing staff levels to coincide with celebrations for its 45th anniversary and to accommodate the WhatSpa? Best Buy Award-winning hot tub designs from Artesian Spas and the arrival of the new TidalFit Active EP-12 swim spa from Artesian Spas manufacturer May Manufacturing.
In the feature in his local newspaper Bradley reports that he has welcomed his son Ed to the company fold who will become the third generation of the family-run business that was originally established by Bradley's father 45 years ago. Bradley also provides answers to various business questions and highlights advice to other people who are considering setting up their own companies in the future.
Bradley reveals that the best advice to someone who wants to get into running a business is to 'back yourself, pay attention to the small detail and make sure you have a plan and execute it'. He also stresses that business owners should measure and forecast everything, particularly the finances.
"So many good people fall in business for the wrong reasons and it's typically nothing to do with what they know but generally what they don't," he states.
Meanwhile, Doncaster-based Artesian Spas has been outlining new developments to its dealer network this week ahead of launching new models to showrooms throughout the UK and Europe for the spring season.
Artesian Spas Director Victoria Wrigglesworth is now looking forward to the impact of enhancements by Nevada-based May Manufacturing to the Platinum Elite range that will be rolled as part of this initiative for the high-end models.
"The whole Platinum Elite range has been revamped for 2016 and the new models will become available to our dealer network at the end of February," divulged Victoria.
"There will be some great stuff for our dealers to promote to prospective customers including a whole new look to the range including new cabinets and many refinements."