Hot tub first in cabinet design
Canadian manufacturer Coast Spas is promoting new groundbreaking 'Coastal Smoke Cabinets' for the spring season that are being launched to the market as the only nine inch-wide shiplap cabinet available on a hot tub.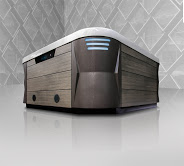 The modern Coastal Smoke Cabinets design, pictured, is among a host of innovative developments that Coast Spas is launching this year to allow dealers to capitalise on the thriving demand for hot tubs, following the introduction of the innovative 'Carbon Fiber Corners' as an optional cabinet upgrade.  
After being in the pipeline for more than 12 months, including a lengthy development process with dozens of design concepts, the new Coastal Smoke Cabinets have been unveiled as part of the 2016 range that was previewed during the manufacturer's International Dealer Meetings in Colmar, France and Vancouver, Canada. 
Developed as the only nine inch-wide shiplap cabinet available on a hot tub, the 'Smoke' refers to the beautiful smokey colours used to create the extreme depth of tone and contrast in the colouring of the stunning spa panels. 
The grain was inspired by an exotic Macassar wood that has an exceptional grain pattern that lends itself perfectly to the paneling for a hot tub.
"Each nine inch-wide panel is accentuated by a black reveal strip that runs the length of each board," said Coast Spas Marketing and Communications Manager Oran Wakelam.
"This creates a one­of­a­kind look that makes any hot tub the centerpiece of your backyard."
Coastal Smoke Cabinets come standard with the manufacturer's signature Obsidian display panel, which provides at a glance the operational status of the hot tub.
Dealers and their customers also have the option of the Carbon Fiber Corners design, which has been meticulously crafted to break up the traditional 'box-like' shape of the hot tub cabinet by bringing in the center of the corner profile in an hourglass-like side profile, that are specifically coloured to match the Coastal Smoke colouring.
All of the manufacturer's durable synthetic cabinet styles are formed from the same ultra durable and nearly indestructible composite materials that are used on the 'Luxury Slate Cabinet' finish and come with a specific colour-matched corner to accentuate the synthetic cabinet colour. 
As part of the newly-launched Carbon Fiber Corners design Coast Spas has integrated three exterior lights into the top of each corner that match the interior lighting of the spa, when activated. 
"The lights will glow a soft white at night, automatically illuminated as dusk falls by an included ambient light sensor," revealed Oran Wakelam.