Hot tub specialist launches red ducks appeal
HotSpring World is helping to raise awareness and money for blood cancer initiatives with the help of a special red duck promotion and the opportunity for hot tub dealers to get involved with additional photographic publicity.
The HotSpring World Seeing Red campaign has been launched with the opportunity for hot tub specialists and their customers to generate essential additional funds to boost the work of Cancer Research UK by purchasing a red duck for £6.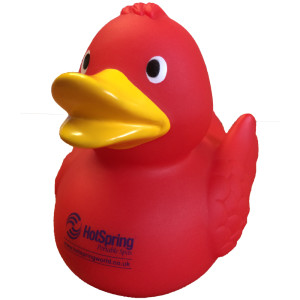 As part of its Care4hottubs online wet leisure product service, HotSpring World has a specialist web shop address at www.care4hottubs.co.uk for convenient and efficient purchasing of a range of accessories. These nclude water care, hot tub covers, filters, and toys, there are a number of traditional ducks, including a 'Buddy Duck', 'Hula Duck', 'Christmas Duck' and 'Duck Torch Keyring' that have now been joined by the World Seeing Red Duck.
For the next couple of months HotSpring World will be heavily promoting the Cancer Research UK fundraising. As part of the initiative the company will also be encouraging owners of the Red Duck to take it with them on their travels and either send photos to: spasales@hotspringworld.co.uk; post photos to the HotSpring World Facebook page at @HotSpringWorld or tweet with #SeeingRED.
As an extra incentive to take pictures of Red Duck adventures and post them online, HotSpring World has also pledged that for every photo submitted and posted it will donate a further £1 to Cancer Research UK.
"We're donating all of the profit on every duck to Cancer Research UK," said HotSpring Distribution UK General Manager Andrew Biggs.
"We are fund raising for Cancer Research and would like to raise as much awareness as possible as part of our HotSpring World Seeing Red campaign."
www.care4hottubs.co.uk/product/hotspring-world-cancer-awareness-duck
-ends-