Hot tub veteran makes Superior move
Expanding Derbyshire-based wet leisure product distributor Superior Spas has welcomed hot tub industry veteran Graham Message to the team to help spearhead the launch of new products into the UK market.
With over 20 year's of experience, including seven years with Aqua Warehouse Group, Graham brings extensive knowledge of the hot tub industry to Superior Spas and has a proven track record of dealer support that the company and its large retailer network will benefit from; while undergoing its current process of major expansion initiatives.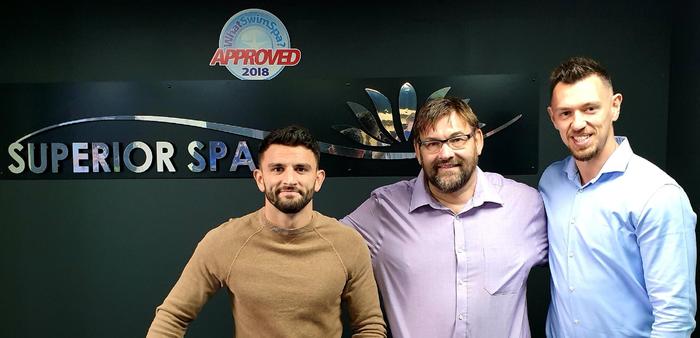 Since being first launched in 2011, Superior Spas MD Rob Carlin, pictured right with Graham pictured centre, and his team have created remarkable success through a thriving hot tub and swim spa dealer network in the domestic market with WhatSpa? Best Buy Award and WhatSwimSpa? Best Buy Award-winning models, while rapidly becoming a leading presence at major wet leisure exhibitions.
The meteoric growth as a distributor, with an extensive range supplied to over 100 specialist retailing companies across the UK and Europe, has resulted in the need for relocation and expansion, which has included the recent construction of a new state-of-the-art distribution facility in Chesterfield, designed to providing brand expansion; whilst also creating at least 30 new job vacancies.
After successfully securing over a million pounds of funding to complete elements of its major expansion plans that will also ensure improved supply efficiency to retailers; Superior Spas, which specialises in the supply of the WhatSpa? Best Buy Award-winning Superior Spas and Platinum Spas ranges along with distribution of the Canadian-manufactured Be Well Spas hot tub options, will now be occupying a state-of-the-art warehouse location at the former GKN Stokes site on Sheepbridge Lane in Chesterfield; after relocating from the Brimington's Station Road.
Along with the new distribution location, the expansion initiative strategy will see the rapidly growing company become one of the largest hot tub firms in the global market following the launch of new state-of-the-art 400,000 sq ft factory in HuBei, China.
"It's a fantastic opportunity to join Rob and his team at Superior Spas in the midst of their expansion process and be a part of something special," said Graham.
"I've been very fortunate to have worked alongside a few leading hot tub manufacturers over the years, where I've gained a variety of experiences and knowledge that I can hopefully pass on in my new role with Superior Spas."
"I've watched with interest the growth of Superior Spas over the last few years and listened to many of their existing dealers praise the work they do. I personally feel it was the right time to take on a new challenge and I'm really excited to be joining Superior Spas."
Graham has been a constant presence on the Aqua Warehouse Group's stand at SPATEX, along with the company's MD Richard Hart who he has thanked ahead of Superior Spas making a successive appearance during the 2020 wet leisure showcase at the Ricoh Arena in Coventry.
"I would like to thank Richard Hart for having the trust in me over the years and allowing me to help build his business to where it stands today," said Graham; "I'm especially proud of the work I achieved and I truly wish him and his team continued success for the future."
For more information on becoming part of the growing Superior Spas retailer network contact Graham Message or Gareth Ward on 01246 559 071.
To make stand bookings for SPATEX 2020, contact the SPATEX team via email: michele@spatex.co.uk or helen@spatex.co.uk or directly by telephone on: +44 (0) 1264 358558.