Hot tub water treatment supplier appointments
Hot tub water treatment and pool product supplier Pollet Pool Group has announced two major new internal appointments as the company looks to take further advantage of the thriving wet leisure industry this year.
Peter Turnbull has been appointed as the new General Manager of Pollet Pool Group (PPG) in the UK and seasoned wet leisure specialist and Bayrol Product Manager Jimmy Lamb will now head up the Sales Division in his new role as National Sales Manager.
PPG Regional Manager UK and Ireland Pete Evans has welcomed the news of the two appointments and is delighted that Peter and Jimmy will continue to enhance the company with their vast experience in their respective new roles.
"Peter has an excellent background in our industry as he has worked within our sales team for three years and with Bio Lab UK prior to that," said Pete.
"Before this Peter worked as a Leisure Facility Manager for twenty years, giving him an unusually wide experience of the market.
"Our existing Bayrol Product Manager Jimmy Lamb will now head up the Sales Division in a new role of National Sales Manager focusing on developing and strengthening our sales team to help further improve customer service and continue the rapid growth of PPG in the UK."
The brace of internal appointments follows another successful outing by PPG at SPATEX. Following on from previous consecutive appearances as an exhibitor, PPG had a large stand area this time round during the 20th anniversary of the exhibition to showcase its products and distribution partnership with BAYROL, which includes the flourishing SpaTime water treatment products for hot tub dealers.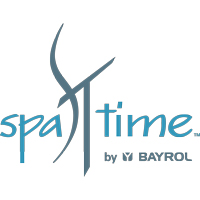 In recent years Jimmy Lamb has been instrumental in boosting awareness of SpaTime and gaining new suppliers for the hot tub water treatment products at successive SPATEX outings and reported further success from his latest appearance at the Ricoh Arena in Coventry.
"The SpaTime awareness has been building up following promotion at a number of SPATEX exhibitions and we're likely going to be bringing more dealers on board as a result of this year's exhibition," reported Jimmy.
"Things are looking very promising and we're confident that we'll be doing well with our SpaTime brand. There is a lot of interest in it and I'm confident that more dealers are going to be taking it on in the future."