Hot tubs gain new aromatherapy system
Canadian manufacturer Coast Spas has launched a dedicated Aromatherapy Infusion System for the spring season that allows owners to add a burst of fragrance into their hot tubs with just a push of a button.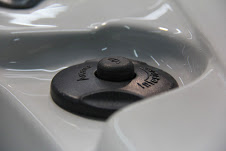 The new Aromatherapy Infusion System, pictured, is among a raft of major produce launches and enhancements that Coast Spas is producing this year to ensure it maintains its credentials for innovative pedigree hot tub and swim spa manufacturing. They were outlined to attendees at the company's International Dealer Meetings in Vancouver, Canada and Colmar, France ahead of targeting an increased share of the global wet leisure market this year.
Dealers representing four continents joined Coast Spas CEO Don Elkington and his team in the unveiling of the Aromatherapy Infusion System as part of an impressive 2016 lineup during the two separate events, which marked the first time that the manufacturer has hosted double IDMs in succession and is a reflection of the massive growth in dealer acquisition Coast Spas experienced in 2015. 
Available on the majority of the manufacturer's hot tub models, the Aromatherapy Infusion design works by loading the system with the choice of six premium spa scents that are available through the Coast Spas dealer network. At the appropriate time of their choosing, owners simply press the button to gain a blast of aromatherapy in their hot tub. 
To load the system with scent, the hot tub owner has to just unscrew the top, which also houses the plunger button, before their favourite spa scent is inserted.  The top of the housing is accessible from the top of the hot tub shell and will sit alongside the water diverters and air shut­off valves. 
Once the scents have been poured into the system owners simply re­attach the lid and then just have to press the aromatherapy button each time they require a fresh scent aromatherapy treatment. 
With every individual press of the Aromatherapy System button, a small amount of spa scent is injected directly into the water at high speed infusing it with the water near the surface of the spa.
This provides immediate diffusion and encourages the scent to last longer with enhanced distribution to all bathers.
"Aromatherapy has been proven to be relaxing and therapeutic for your mind and body and is an incredible new addition to the 2016 product offering from Coast Spas," said Coast Spas Marketing and Communications Manager Oran Wakelam.