Iconic hot tub brand boosts profile
Jacuzzi has given its British dealer network a pre-spring boost with the launch of major sponsorship deals to help build on its record-breaking hot tub sales performance and an 'out of this world' inspirational speech.
Famed astronaut Buzz Aldrin, one of the first two men to walk on the moon, has helped the brand gain international trade and media coverage after he was unveiled as the surprise keynote speaker during the recent Jacuzzi Dealer Conference in Panama City, Panama.
The iconic brand has also moved quickly to ensure further success this year in the UK after celebrating achieving record sales in 2015 that coincided with a hat-trick of WhatSpa? Best Buy Award honours for the six-seater J-245IP, coming in at 213 x 213 x 91cm; the five-seater J-335, coming in at 214 x 214 x 92cm with a lounge seat in its design; and J-575, coming in at 231 x 231 x 92cm.
In recent years Jacuzzi UK has been implementing its 'Beware of imitations' marketing strategy to help to promote its pedigree products, including the new J-500 series hot tub models that feature a unique PowerPro jet system, to prospective dealers and consumers and National Sales Manager Martyn Winstone says the policy has been paying dividends with the result being increased sales.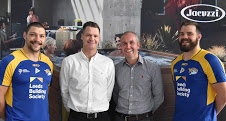 Now, to help build on the very positive momentum, further major promotional initiatives have been launched ahead of the spring season including the sponsorship of nine Audi FIS Ski World Cup races, including today's outing in Chamonix, and an Associate Club Sponsor deal with Leeds Rhinos, pictured. The 2015 triple trophy-winning team are competing in the World Club Championship against Queensland Cowboys on Sunday and Martyn believes dealers will be able to capitalise further with this additional high-profile sponsorship involvement.
"As a company we've gained various sports advocates and have launched many advertising and sponsorhip initiatives to increase awareness of the Jacuzzi brand and our quality message to prospective dealers and consumers," said Martyn. "It has proved to be a success with increased sales performances but we're not going to be resting on our laurels.
"We are now sponsoring Leeds Rhinos as part of this strategy in 2016 and we're also sponsoring nine races in the winter Ski World Cup schedule and the intention is for our dealers to also capitalise on this exposure for the brand.
"We know that there is still a problem of cheap and poorly manufactured hot tubs in the market but our strategy is to play to our own strengths by promoting our pedigree brand and products to the trade and consumer audience.
"There are suppliers who try to promote imitations of quality brands but they should not making false claims about their hot tubs to try and achieve sales. Retailers should be truthfully quoting where their products are made and not trying to promote statements that are not true.
"Our philosophy is to focus on what we do best and that is to continue to provide promotion for our innovative and unique quality hot tubs."
Commenting on the Leeds Rhinos sponsorship deal Jacuzzi Marketing Manager Paul Farrell said: "We're delighted to be teaming up with the Rhinos during such an important year for them. They are leaders in the sport of rugby league and we are leaders in hot tubs."
Leeds Rhinos Commercial Director Rob Oates added: "Many of our players are already fans of Jacuzzi. We're looking forward to working with such a big global brand throughout the season."
Meanwhile, attendees travelling to the Jacuzzi Dealer Conference were not told in advance that Dr Aldrin would be appearing. Incredibly, the event's organisers managed to keep his keynote address a top secret before announcing it during the actual conference that had the appropriate theme of 'Unlocking Possibilities – Engage, Explore, Excel'.
"We agreed to keep his participation a secret to build excitement," said Senior Director of Marketing for Jacuzzi brands Patrick Williams.
"What better way to emphasis possibility than by having the conference set against the backdrop of the Panama Canal, which was built on the promise of possibility, and closing with Dr Aldrin, who embodies the audacity of the 20th century space race."
During the 2016 British Pool & Hot Tub Awards presentation Jacuzzi retailer Oyster Pools & Leisure provided another major boost for the brand by securing eight awards from the two BISHTA and SPATA ceremonies including the prestigious Peter Geekie Award for Retail Excellence sponsored this year by leading hot tub and pool product specialist Certikin International.
Jacuzzi retailer and Euphoria Lifestyle chief Mike Robinson, who exhibited the original Jacuzzi pump that launched the hot tub industry as part of Euphoria Lifestyle's stand at last year's Goodwood Revival, also landed Gold Awards in the 'Residential Hot Tub £7,000 to £14,000' and 'Best Website' categories during the BISHTA ceremony.