Inaugural open day after partnership announcement
1Stop Spas has forged a new partnership with the UK division of the largest managed vacation rentals and holiday resorts business in Europe ahead of hosting an open day for hot tub holiday operators.
During the past year 1 Stop Spas chief Chris Brady and his team have been ramping up promotion for the Tuff Spas brand and a new Tuff Spas UK dealer network by highlighting the USA manufactured products at major trade exhibitions, including SPATEX 2022, and has now gained the prestigious Awaze UK partnership status ahead of its inaugural Hot Tubs in Holiday Lets Open Day event this week.
Leading travel brands within the Awaze Group, including those that provide hot tub holiday accommodation options in the UK, attract eight million customers a year throughout Europe and were previously part of the portfolio owned by Wyndham Worldwide before being sold to Platinum Equity. A new London-based Awaze UK corporate team, led by Awaze Group CEO Henrik Kjellberg, has been increasing the company's product footprint through acquisition and organic growth, working collaboratively between brands and developing a great team culture across the group.
The 1 Stop Spas team, which also promotes the American Whirlpool and Master Spas brands, has been developing new contacts within the hot tub holiday market during the first year of its status as exclusive Tuff Spas distributor thanks to the environmentally-friendly features of of the hot tubs and peace of mind purchasing benefit of the lifetime warranty on the Tuff Top cover patented design.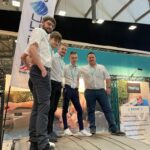 The strength of the Tuff Top when it is in the secure closed position was highlighted when members of the Tuff Spas UK exhibition team, pictured, stood on a Tuff Spas display model at SPATEX.
"While the Tuff Top is proving to be a popular attraction with customers in the hot tub holiday market we've also been receiving a very positive response to the fact that these hot tubs are extremely tough and rugged, which makes them perfect for holiday let businesses," explained Chris Brady.
"The way that they are manufactured means that they have the benefit of being easily installed and located on concrete and even grass at the owner's property.
"We've been highlighting that the production process includes recycled materials and will now incorporate the capability for owners to include cutting-edge hot tub heater technology for rapid and energy-efficient water heating."
"The fact that this helps reduce operating costs with the additional HSG282 compliant Tuff Spas environmentally-friendly benefits, are all major attraction for this brand."
The first Hot Tubs in Holiday Lets Open Day event will be hosted tomorrow, Thursday, February 17, at the 1 Stop Spas headquarters in Sleaford from 10am. During the day there will be expert guidance available on various subjects specific to the hot tub holiday market, such as safe hot tub operation, and additional advice on how to increase revenue and save money on operational costs.
It follows on from a partnership agreement announced with Cottages.com with 'Preferred Suppliers of Hot Tubs, Swim spas & Hot Tub Training Services' status, and the launch of www.tuffspas.co.uk as a new dedicated Tuff Spas UK website presence.