Industry showers winners with praise
Hot tub and pool specialists have gained a wave of praise and support from their British counterparts after achieving major industry award recognition during the European Pool & Spa Awards in Barcelona.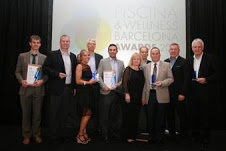 Messages of congratulations have been shared with Home Counties Pools and Hot Tubs; Falcon Pools; London Swimming Pool Company; and Portrait Pools & Enclosures; after they achieved award recognition at the third European Pool & Spa Awards hosted by the European Union of Swimming Pool and Spa Associations (EUSA) in the historic venue of the Palacio de Pedralbes, during the Piscina & Wellness Barcelona exhibition. They were among eleven winners, from five categories, announced across the 13 countries that comprise EUSA with BSPF Managing Director Chris Hayes in attendance.
An Endless Pools installation, which is featured in the recently published inaugural issue of WhatSwimmingPool? landed the Gold Award for Beachcomber and Elite Spas hot tub dealer Home Counties Pools and Hot Tubs in the Domestic Above Ground Pools category; while London Swimming Pool Company, also achieved a Gold Award in the Domestic Spas category. Falcon Pools was honoured with the Silver Award in the Domestic Hot Tubs category; and award-winning Jacuzzi retailer and installer Portrait Pools & Enclosures gained a Bronze Award in the fiercely contested Domestic Indoor Pools category.
While wet leisure specialists across the UK have been sending messages of support directly to the four award winners via social media, Chris Hayes highlighted that the four winners had faced stiff competition from other European entries while officially showering the SPATA and BISHTA members with praise.
"These are wonderful results for our members, and we're pleased that they have received this well-deserved recognition," Chris enthused.
"We're very proud that our members won four of the awards that were presented. The judges had some tough decisions to make, with a shortlist of 79 entries across five categories.
"This year, seven countries provided entries, and seven countries judged the categories. The exemplary work displayed by our members and those of the other relevant National Associations defines the industry and celebrates the exceptional standards of all of our respective members and their professionalism.
"I'm sure that consumers across Europe can be secure in the knowledge that a company in a national association who are members of EUSA are a business to trust and who provide superior standards.
"The current development of European standards for domestic pools and spas will reinforce this desire for safety and performance to become uniform across the Continent."
Multi-award winning hot tub retailer Craig Trusson of Home Counties Pools and Hot Tubs, who is no stranger to industry recognition, was delighted that the company's Endless Pools installation, which secured the SPATA 2015 Above Ground Pools Gold Award at the Ricoh Arena in Coventry, gained the additional European Gold accolade.
"We're thrilled with our European win," said Craig, who has been a loyal retailer for the Beachcomber brand for many years at his Hillier Garden Centre headquarters in Horsham, which also specialises in the Endless Pools range that has been recently purchased by HotSpring, Fantasy Spa, and Caldera Spa producer Watkins Manufacting.
Craig added: "To be highlighted in the EUSA awards alongside such strong competition across Europe is a significant acknowledgement for our company and our entire team."
The London Swimming Pool Company won a Gold Award in the Domestic Spa category, for their spa project that was part of a larger swimming pool installation.
Jamie Smith from the London Swimming Pool Company, which is also featured in the Grand Designs section of the first edition of WhatSwimmingPool? reported that the  European Gold recognition would be cherished by the company that has been boosted by the increased consumer demand for wellness products.
"It's a huge honour to be awarded gold at the European Pool and Spa Awards," said Jamie.
"The entries were judged by top industry professionals with exacting standards, so receiving this accolade means a great deal to our company and highlights the passion that our team puts into every project.
"We've seen an increase in the number of people wanting the whole 'wellness' experience and they are having spas, saunas, steam rooms, hammams and even ice rooms installed in their homes."
After landing the Silver Award Ian Storr of Falcon Pools, said: "We are delighted to be recognised at the 2015 EUSA awards. This recognition is a testament to the hard work of all the team at Falcon Pools, taking home an award in the Domestic Hot Tubs category from EUSA is a great acknowledgement for us."
Andrew Rutherford from Portrait Pools & Enclosures, which has its SPATA 2015 Gold Award for Residential Pools £80,000 and over featured in the current issue of WhatSwimmingPool? said: "We're delighted to have received such a prestigious accolade at the EUSA awards."