Innovative batch of Coast Spas releases
An innovative batch of products and enhancements has been launched by booming hot tub and swim spa manufacturer Coast Spas that includes advanced Impulse Jets within a dedicated new series.
Among the latest designs to hit the Canadian company's production lines is the new Wellness Spa Hot Tub Series; along with the Apex B and Element B models. These were unveiled as part of an exclusive launch presentation during the 21st International Dealer Meeting hosted by Coast Spas at the Westin Bayshore in Vancouver.
Both the Apex B and Element B have all new bucket seating. This design replaces the lounge seating from the original Apex and Element models, which were worldwide top-sellers in 2017. All Apex and Element models are now available with a 'Curve Upgrade', which features Coast Spas' exclusive 24″ waterfall on a raised protective curved back.
"This innovative approach makes it easier than ever for Coast Spas customers to get the features they want on their new spa and for the absolute best value of any hot tub on the market today," revealed Coast Spas Marketing Manager Oran Wakelam.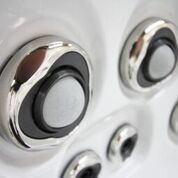 The cutting-edge new Wellness Spa Hot Tub Series, meanwhile, comes fully loaded with unique Wellness Spa hydrotherapy jet configurations and new Wellness Spa Series Impulse Jets, pictured. With an increase in pump size, there is more power being delivered to all the massage jets; giving the end user the ultimate hydrotherapy experience, according to the manufacturer.
As part of the launch promotion for the Wellness Spa Series it has been revealed that the various models will have exercise bands included, which can easily clip on to the hot tub. This provides users with the capability to perform low impact exercises in the hot tub.
"This new series is fully equipped with tons of additional inclusive features and innovations that specifically benefit anyone that's seeking a spa for wellness or hydrotherapy reasons," reported Oran.
A new innovative Quick-Access Equipment Door, which is a secure dual-lock system, has also been added to the Wellness Spa Series to create an easy way to access the equipment area. It features a sleek design that simply unlocks with a key and lifts off.
The consistent WhatSpa? and WhatSwimSpa? Best Buy Award-winning company has also introduced the Coast Cubby, which is a warm storage compartment, to provide a new way for hot tub users to keep their towels, sandals and phones warm while they are using their hot tub. The Coast Cubby is 'Marine-Grade' with a modern design; so dealers can be confident in the proclamation that it looks as good as it works.
For additional user-friendly convenience a Coast WaterVac, which is a powered draining system, can also be added to the Coast Cubby. This ensures users can drain their spas more quickly and efficiently. As part of the launch Coast Spas reported that the new system allows the spa to drain in approximately one hour.
According to feedback, a new Coast Connect Games Table; which comes complete with a set of waterproof cards and checker pieces; has already proved to be a popular addition during the launch promotion and is set to be an instant hit with dealers and their customers this year.
New premium acrylic colours 'Crimson Night' and 'Whispering Winds' have also been introduced for 2018. An old favourite 'Kalahari' has also been brought back due to popular demand by Coast Spas dealers.
This year the new Spa Builder 2.0 Application will provide enhanced technology to build on the capability that is allowing Coast Spas dealerships to save time by automating and simplifying complex tasks.
The exclusive program, which was created by Coast Spas, has been proven to be powerful for both sales and management teams and is provided free-of-charge to all Coast Spas dealers.
"Sale teams can use the program to build spas for their customers and create quotes, specification sheets and sales agreements," explained Oran Wakelam; "Management teams can also use the program to set their own pricing, build spas and order spas."
Coast Spas is currently looking to expand its network of dealerships and is inviting interested parties to contact them directly via email at: info@coastspas.com