Innovative hot tub heater from Bowman
A new super compact heat exchanger has been launched by E J Bowman to allow hot tubs to be heated via a main domestic or commercial heating system to help owners dramatically reduce energy costs.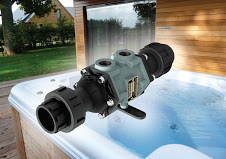 Birmingham-based E J Bowman has developed the EC80-5113-IT heat exchanger, pictured, with up to 25kW of heat transfer capability to ensure hot tubs can be heated in a fraction of the time taken by traditional electric heaters.
The company is now targeting the innovative heat exchanger model at the British hot tub market and especially dealers who have holiday park clients that can potentially save thousands of pounds in heating costs; as well as retailers and installers who have domestic customers that require a fast and energy-efficient solution to heating their hot tubs.
At the heart of the EC80 is an immensely durable titanium tubestack, which resists chemical attack indefinitely and has the peace of mind for owners of a ten-year guarantee on all titanium in contact with hot tub or pool water.
Bowman's Sales Manager Tony Carter highlighted that titanium is the perfect 'fit and forget' material for hot tubs, spas and pools as it can be used with any type of pool water, including saline pool water and salt water chlorinators.
"It eliminates the possibility of galvanic attack between dissimilar materials, which can lead to premature heat exchanger failure," explained Tony.
"At just 368mm overall length, the EC80 is so compact it can be fitted virtually anywhere. It is also available with either a stainless steel, or Cupro-nickel tubestack, if required."
 Tony reported that as well as Bowman heat exchangers being proven in commercial hot tub applications, there has recently been an example of 24 hot tubs being converted from electric to Biomass heating in conjunction with Bowman heat exchangers.
"The energy cost savings were remarkable," said Tony. "The new heating system reduced energy costs by a total of £12,000 per year, compared with the previously used electric heaters.
"Additionally, the hot tubs now take just two to three hours to heat up to the required temperature, compared with up to 24 hours with the electric heaters, dramatically improving the availability of the hot tubs for guests.
"We believe the new EC80 unit is big news for the UK hot tub market, enabling dealers and installers to offer a significantly more energy-efficient heating solution to their customers."