Italian brand boost at SPATEX
Novellini UK is highlighting a European brand and high quality thermal insulation for energy savings to boost awareness of four Italian hot tub designs being promoted at SPATEX 2023.
As part of a large list of exhibitors that will be promoting hot tub brands during SPATEX at the Coventry Building Society Arena, a key focus for St Albans-based Novellini UK will be to highlight the Italian hot tub credentials from one of Europe's leading bathroom and spa manufacturers that was established in Montova by Franco Novellini in 1966.
Still family-run, the company now has 27 subsidiaries worldwide, eight production sites and annually manufactures one million shower enclosures. The company's Divina XXL model, is one of the four Divina hot tub designs being promoted at SPATEX, running from January 31 to February 2.
This hot tub option can accommodate six people and is the largest design of the Italian brand, which also includes the four-seater XL Spa, the three-seater L Spa, and the diminutive two-seater M Spa.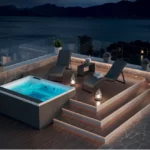 As part of its pre-SPATEX promotion, Novellini UK has been highlighting that the Divina hot tubs are being produced from the highest quality acrylic and are easy to clean. It is also being reported that they are extremely resistant to impact, and do not deteriorate or fade over time.
"The tub shell is reinforced by a low environmental impact polyurethane foam, which guarantees excellent thermal insulation of the tub and significant energy savings," said a Novellini UK spokesperson.