Jacuzzi Brands braced for 'family' extension
Jacuzzi Brands has announced the acquisition agreement of LMI FLA Holdings and Leisure Manufacturing who produce Dream Maker Spas hot tubs in Florida and Sunrise Spas hot tubs and swim spas in Ontario, Canada.
California-based Jacuzzi Brands, owned by Investindustrial, has been on the acquisition trail again after following up its 2017 purchase of Ontario-based hot tub and swim spa brand Hydropool and Illinois-based bathtub and shower manufacturing leader Bathwraps with another brace of respected brands.
As with the previous two acquisitions, Jacuzzi Brands was advised by Sphaeris Capital Management LLC, a specialist in add-on acquisition programs, middle market mergers and acquisitions, and proprietary investments internationally to secure the agreement with Leisure Marketing that will ensure existing and new customers receive sustained high levels of service.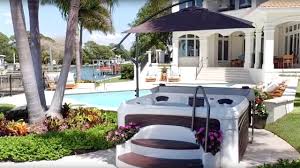 Dream Maker Spas; which has gained WhatSpa? Best Buy Award-winning recognition in the UK market for its rugged roto-moulded Cabana Suite design incorporating all-inclusive features, pictured, plus sustainable Syncrylic impact resistant material; and the Sunrise Spas brand are now joining forces with the iconic multiple WhatSpa? Best Buy Award-winning Jacuzzi brand in an impressive group that also includes Sundance Spas, Dimension One Spas, and ThermoSpas.
Jacuzzi Brands CEO Chuck Huebner has been true to his promise to lead the booming brands 'family' into a new phase of development and growth since taking over from former CEO Bob Rowan last year; following the purchase of Jacuzzi Brands by Investindustrial, which has successfully partnered with premium brands such as Aston Martin and Ducati.
"The addition of the Dream Maker and Sunrise Spas product lines to our existing portfolio of products allows Jacuzzi Brands to enhance the support we provide to our retailers," he said; "And to improve the quality of life of many new customers seeking to advance their wellness routine and 'Feel Better' every day.
"We are pleased to welcome the experienced design, manufacturing and marketing associates of Leisure Manufacturing to the Jacuzzi Brands family. Leisure Manufacturing management will continue to be engaged with the business, ensuring existing and new customers receive the same high level of service Leisure Manufacturing is providing today.
The former CEO of kitchen appliances manufacturer Dacor Inc also highlighted that the sustained strength of Jacuzzi Brands in the global market and future growth potential would not be possible without the support of employees, suppliers and customers.
"This acquisition provides us with an excellent platform for continued momentum in the global marketplace," he declared; "Further, none of this would be possible without the continued support of our employees, customers and suppliers, who continue to believe in the strength of our brands and our tremendous growth potential."
Leisure Manufacturing President Jack Layfield reported that he was excited by the fact that the acquisition would provide the capability to be able to benefit from a greater global reach for their hot tub and swim spa product lines that includes the 2019 WhatSpa? Best Buy Award-winning Dream Maker Spas Cabana Suite design.
Coming in at 203 x 203 x 86cm, the Dream Maker Spas Cabana Suite incorporates a space-saving Adirondack lounger seat and Captain's Chair with arm rests within its four-seater design that also includes a cover lifter, and umbrella; as well as a built-in handrail, table, and drinks cooler and storage steps.
"We are excited to be joining Jacuzzi Brands," divulged Jack; "Their iconic family of brands and global reach will open many doors for our products across the world and allow us to reach more people who can benefit from our products."