Jacuzzi continues 'best moment' promotion
Jacuzzi has been continuing the promotional activities for the official sponsorship of ten FIS Ski World Cup races with renewed promotion of its 'best moment of the race' marketing initiative in the French Alps.
This weekend will be the turn of the ladies to sample to delights of Jacuzzi hydrotherapy after contesting the races in the Combined, Downhill, and Super G events in Val d'Isere, which is famed for its 300km of alpine ski slopes served by modern lift systems that have made it a key host for the FIS Ski World Cup.
It staged the men's Giant Slalom and Slalom Events last weekend and is the destination for a lucky winner of one of Jacuzzi's winter competition prizes linked to its sponsorship of the FIS Ski World Cup that includes a weekend stay at a 5-star hotel in Val D'Isere.
At the start of the month Super G, Downhill and Giant Slalom men's races were staged in Val d'Isere in replacement of the cancelled stage that had been scheduled for Beaver Creek. The Giant Slalom culminated with Mathieu Faivre taking first place, which was the first of his career, ahead of Marcel Hirscher and Alexis Pinturault.
On Saturday in Val d'Isere Alexis Pinturault overcame an injury to win his second event of the season and his eighth giant slalom of his career. The Frenchman managed to hold off Austria's Marcel Hirscher who finished second but is still at the top of the World Cup leader board.
A bad fall on Thursday in training resulted in Alexis having to compete with a bruised right hand. Despite this setback, the 25-year-old took advantage of the great conditions to beat the previous French Grand Slalom record, and in doing so land his 17th World Cup victory on home soil.
Unfortunately on Sunday Alexis suffered a dip in form and he was unable to repeat his heroics of the previous day. Norway's Henrik Kirstoffersen clinched first position with a massive 0.75 second gap between him and second placed rival Marcel Hirscher.
Thanks to his second, second place finish of the weekend Marcel managed to increase his overall lead over second placed Alexis Pinturault to 156 points.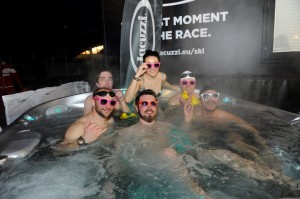 Currently post-race hot tub use,pictured, and the #thebestmomentoftherace is one of the official Jacuzzi hashtags during the Ski World Cup. It relates to the many benefits of hot tub hydrotherapy for athletes, especially at a competitive level that Alexis Pinturault can take advantage of to help heal his bruised wrist quickly.
As part of its FIS Alpine Ski World Cup promotion, Jacuzzi UK is also heavily promoting its special 'Ski to Win Great Prizes' competition to provide consumers with the chance to win prizes on its www.jacuzziski.com site with entries closing on March 4.
The online 'Spin the Wheel' prizes include a sports edition Apple Watch, Sony Playstation4 Console, 4K Ultra HD TV, Go Pro Hero Session, and Samsung Galaxy Tablet; as well as the weekend stay at a 5-star hotel in Val D'Isere.
Jacuzzi UK National Sales Manager Martyn Winstone has reported that the competition has already helped to drive up increased awareness in the brand and generate more footfall in British Jacuzzi showrooms.
"As well as gaining international recognition for the Jacuzzi brand with our sponsorship of the ten FIS Ski World Cup races we have also launched the Spin the Wheel competition on our jacuzziski.com site," said Martyn.
"This is not only helping to increase awareness of the Jacuzzi brand and its product range, but also drive extra footfall into the showrooms of our dealers in the UK.
"Our British sales are still going well at the end of the year. October and November we're really good months and there has also been strong demand for our products into December that we're hoping will continue throughout the winter."