Jacuzzi dealer completes showroom transition
Thriving hot tub retailer and Jacuzzi dealership All Weather Leisure has just completed its transition to new premises as part of plans to increase its product portfolio and build on high sales this year.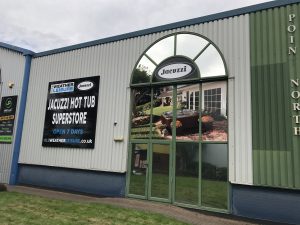 For nine years All Weather Leisure has grown its status in the market and customer base from the previous location at the Shenstone Garden Centre in Staffordshire and has recently switch to new premises, pictured, at Unit 4, Point North Virage Park in Cannock. This will allow Luke Shelley and his father and cousin to highlight additional hot tubs to prospective customers along with swim spas and associated wet leisure products.
"The move has gone well and it's been plain sailing transferring from the other premises at the garden centre," reported Luke.
"We've naturally got to continue to do some work on bits and pieces, but overall it's not too bad. Our rent was increasing annually at the other site and the benefit for us now is that we've gained more space and have achieved it at the same cost of rent."
Luke reported that sales this year have increased compared to the same period in 2016 and that already there has been a big impact in chemical sales following the move to the new location.
"We've increased our hot tub sales this year and have seen a big impact in the over £10,000 market," said Luke. "In the short time we've been in our new showroom we've already seen a big impact in chemical sales and have done a lot more than we would have done in that period of time at the garden centre location."
Previously All Weather Leisure has been promoting WhatSpa? Best Buy Award–winning Jacuzzi models and an extensive choice from the iconic brand's J200, J300, J400, JLX Series and Jacuzzi Lodge Series; as well as USA manufactured options from Viking Spas supplied by distributor Spa Solutions; including the WhatSpa? Best Buy Award-winning six-seater Royale in the £5,000 to £7,4999 price category; along with its Aurora 3, and Regal counterparts.
On the swim spa front the dealership has also been promoting the Aqua Fit Swim Spas from Jacuzzi, including the AFS 13 Pro Swim Spa,AFS 16 Play Swim Spa,AFS 19 Pro Swim Spa and AFS 19DT Plus Swim Spa.
Now, along with Woodland Log Cabins, there will be an increase in additional wet leisure products and accessories to provide a wide choice to customers.
"We've got 13 hot tubs here at the moment and five more models on special order from Jacuzzi," said Luke; "We did extra well with the Viking Spas hot tubs and may also continue with them in the future.
"Now that we've got greater scope, we'll be looking to further expand our product ranges in the future and will certainly be taking on additional swim spa models; especially now we know that we've got more choice following Jacuzzi purchasing Hydropool."