Latest marketing boosts HotSpring dealerships
HotSpring dealers have been given a boost for their sales and marketing activities with new advertising campaigns and praise for the Watkins Wellness hot tub technology from Star Wars and Harry Potter actor Warwick Davis.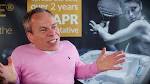 Warwick, pictured, who is among the leading 'Stars in their Spas' in the latest 2017 edition of WhatSpa? magazine that includes a 'Quality you can count on' consumer advertising campaign by HotSpring, has divulged recently that he would never want to be without his own HotSpring Jetsetter hot tub. He says it provides himself and his family with a place to chat and enjoy advanced hydrotherapy from hot tub giant Watkins Wellness with designs inspired by a collaboration with Designworks, part of the BMW Group, for the innovative Highlife NXT range.
"A hot tub benefits us as a family in many ways," reported Warwick, who played Professor Filius Flitwick and Griphook in the Harry Potter films; and was Wicket the Ewok among his many Star Wars roles, including appearances in 'The Force Awakens' and the recent 'Rogue One: A Star Wars Story'.
"Not only is it good for your body, but it's also good for your mind," enthuses Warwick.
"It's very relaxing, very calming being in the water. It's also a way to get together and chat and digest the day. It is a fantastic way for us as a family to bond.
"I think that hot tubs are something that everybody should consider. Personally, I wouldn't want to be without it. It makes me feel good. It's also fantastic for parties as well!"
Warwick, who is a founder of the Reduced Height Theatre Company and presents 'Celebrity Squares' for ITV and has starred in Sky 1's 'An Idiot Abroad' with Karl Pilkington and the BBC mockumentary 'Life's too Short' written and directed by Ricky Gervais and Stephen Merchant, has helped to illustrate his knowledge of the Jetsetter from the world's leading hot tub brand.
He used his expertise last year to raise the bids for a donated Jetsetter model by HotSpring World Peterborough during an auction night to raise funds for the children's ward at Peterborough City Hospital.
Warwick, who has had a cameo roles in the latest editions of the Star Wars saga, provided his compere services as part of the auction event to raise money for Neo-Natal equipment. The fact that it was a hot tub model that Warwick owns himself, which features a lounge seat and a Moto-massage DX jet, for a special fundraising appeal with a personal connection proved decisive in achieving the final £6,000 total.
He established his 'Wicket the Ewok Appeal' to raise funds for an additional incubator for the Neo-Natal unit at the hospital, which helped two of his children, Annabelle, who has featured in the CBBC show 'The Dumping Ground', and Harrison, immediately after they were born with respiratory difficulties.
"They were cared for by the wonderful doctors and nurses for many months," divulged Warwick.
"It is down to their skill, dedication and professionalism that Annabelle and Harrison are both healthy young people leading full, active lives. For this, I will be eternally grateful."
Along with Warwick's glowing praise for HotSpring and the Watkins Wellness technology, the flourishing network of pedigree HotSpring World showrooms; which have been helping to promote a 'Big July Finance Event' with four-year's zero percent interest free finance for prospective customers; and specialist HotSpring dealerships in the UK are also highlighting the fact that HotSpring has once again been bestowed with multiple 2017 WhatSpa? Best Buy Awards for the five-seater Hot Spot Propel, in the £5,000 to £7,499 price range; six-seater Limelight Flair, in the £10,000 to £14,999 price bracket, and the six-seater Highlife Vanguard NXT, in the £15,000 Plus price bracket.
HotSpring Sales Executive Meirion Stenner has reported that demand for HotSpring models has been booming at the Cadbury Garden Centre in Congresbury with a large percentage of purchases being made during the weekends by new hot tub owners in their 30's and 40's so far this year.
"Sales have been absolutely brilliant and at the weekends you can't move in our showroom," revealed Meirion. "It's been crazy!
"We tend to generally have sales for all of our models from across the board age groups but at the moment there has been strong sales from customers in their 30's and 40's and most of them have done some form of research on hot tubs before coming to the showroom.
"It's usually a mixed bag when it comes to the knowledge that prospective customers have about hot tubs. Some have done little or no research, but at the moment we are finding that people have done their homework to get a bit clued up before coming to the showroom.
"Overall things are very positive so far this year and we're confident that it will continue."