Magnificent BISHTA Awards achievement
Leading hot tub and swim spa retailers have gained a prestigious promotional boost after receiving BISHTA acclaim for their professional installations and showroom services during the 2022 British Pool & Hot Tub Awards ceremony.
Praise and positive feedback were flowing as BISHTA and SPATA members gathered at the Coventry Building Society Arena, after the first day of SPATEX 2022, for the wet leisure industry's annual gala evening and presentation ceremony. Following another bumper year of demand for hot tubs, swim spas and pools, the big winner on the night was Hot Tub Suppliers with a 'hat-trick' of BISHTA Gold Awards among a magnificent seven total, pictured, of accolades.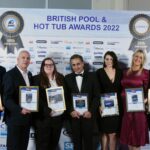 The Leicester-based company, which has launched a Lodgic 282 model for the hot tub holiday market this year, achieved a top triple by landing Gold Awards in the 'Hot Tub in a Holiday Setting', 'Best Use of Digital Media', and 'Hot Tubs Change Lives' categories. The company also landed four other awards, including a Silver Award in the 'Residential Hot Tubs below £7,000' category, and a Bronze Award in the 'Residential Hot Tubs £7,000 to £14,000' category.
Among the additional top BISHTA award winners was American Whirlpool, Master Spas and Tuff Spas specialist dealership 1 Stop Spas in the 'Residential Hot Tubs £7,000 to £14,000' category, while Artesian Spas and TidalFit specialist North Spas landed the Gold Award in the 'Swim and Exercise Spas' category. A prestigious 'Showroom of the Year' Gold Award was won by Luxury Spas Direct, and Concept Spa landed the top accolade in the 'Hot Tub Happiness #everydaycation' category.
During the SPATA Awards ceremony experienced wet leisure product specialist and Caldera Spas dealership All Swim, which is celebrating its 50th Anniversary this year, won the 'Peter Geekie Award for Retail Excellence'. The achievement secured a 'hat-trick' in this prestigious award category for the company since becoming a SPATA member in 1974, after being established in 1972.
BISHTA and SPATA Managing Director Chris Hayes praised the winners and highlighted that they had overcome COVID-19 pandemic challenges for a second year to become the latest recipients of the respective trade awards.
"The past few years have been challenging for many industries, including our own, so to see the calibre of this year's British Pool & Hot Tub Award winners is a testament to the expertise, talent and hard work these companies have demonstrated," said Chris.
2022 BISHTA WINNERS were:
Residential Hot Tubs below £7,000
GOLD – Hot Tub House Yorkshire
SILVER – Hot Tub Suppliers
BRONZE – A6 Hot Tubs

Residential Hot Tubs £7,000 to £14,000
GOLD – 1 Stop Spas
SILVER – Concept Spa
BRONZE – All Weather Leisure Midlands
BRONZE – Hot Tub Suppliers
BRONZE – Marquise Spas

Residential Hot Tubs £14,000 and Over
GOLD – SpaFlo
SILVER – Concept Spa
BRONZE – North Spas
BRONZE – Barnsley Hot Tubs
BRONZE – Marquise Spas
Swim and Exercise Spas
GOLD – North Spas
SILVER – All Weather Leisure Midlands
SILVER – Outdoor Living (Hull)
Hot Tubs Change Lives
GOLD – Hot Tub Suppliers
SILVER – Barnsley Hot Tubs
BRONZE – North Spas
Hot Tubs in a Holiday Setting
GOLD – Hot Tub Suppliers
SILVER – North Spas
BRONZE – Barnsley Hot Tubs

Hot Tub Happiness
GOLD – Concept Spa
SILVER – Barnsley Hot Tubs
BRONZE – Hot Tub House Yorkshire
BRONZE – Hot Tub Suppliers
Showroom of the Year
GOLD – Luxury Spas Direct
SILVER – Outdoor Living (Leeds)
BRONZE – 1 Stop Spas
BRONZE – Outdoor Living (Hull)

Best Use of Digital Media
GOLD – Hot Tub Suppliers
SILVER – Euphoria Lifestyle
BRONZE – Hot Tub Suppliers
2022 SPATA WINNERS were:
Residential Outdoor Liner Pools under £60,000
Gold – Mermaid Pools
Silver – Tanby Pools
Bronze – Centurion Leisure
Residential Outdoor Liner Pools over £60,000
Gold- Mermaid Pools
Silver – Blue Cube Pools
Residential Outdoor One-Piece Pools [sponsored by Complete Pool Controls]
Gold- XL Pools
Silver – XL Pools
Bronze- Centurion Leisure
Bronze- Mermaid Pools
Bronze- Tanby Pools
Residential Outdoor Concrete Pools under £100,000
Gold- Tanby Pools
Silver – New Dawn Pools
Bronze- Centurion Leisure
Bronze – Albatross Pools & Spas
Bronze – Falcon Pools
Bronze – Tanby Pools
Residential Outdoor Concrete Pools over £100,000
Gold – XL Pools
Silver – New Dawn Pools
Bronze – Tanby Pools
Bronze – Mermaid Pools
Bronze – A19 Pools & Spas
Bronze – Falcon Pools
Bronze – Penguin Swimming Pools
Bronze – XL Pools
Residential Outdoor Pools with an enclosure
Gold – Centurion Leisure
Residential Indoor Pools under £125,000
Gold – Origin Leisure
Silver – A19 Pools & Spas
Residential Indoor Pools £125,000 to under £175,000
Gold – Centurion Leisure
Silver – Origin Leisure
Bronze – Tanby Pools
Bronze – Origin Leisure
Residential Indoor Pools £175,000 to under £250,000
Gold – Origin Leisure
Residential Indoor Pools £250,000 and over
Gold – Origin Leisure
Special Requirement Pool of the Year
Gold – A19 Pools & Spas
Commercial Pool of the Year
Gold- Penguin Swimming Pools
Silver- Penguin Swimming Pools
Overseas Residential Pool of the Year
Gold – Exterior Experience Landscaping
Silver – Exterior Experience Landscaping
Bronze- Niveko s.r.o
Refurbishment Pool of the Year
Gold- A19 Pools & Spas
Silver – Centurion Leisure
Silver – Centurion Leisure
Bronze- Tanby Pools
Inground Residential Spas and Wellness
Gold- Falcon Pools
Silver- Centurion Leisure
Bronze- Mermaid Pools
Peter Geekie Award for Retail Excellence
All Swim
Paul Kite Award for Pool Star of the Year
Vincent Borley of Tanby Pools
Outstanding Residential Pool of the Year
XL Pools
Outstanding Commercial Pool of the Year
A19 Pools & Spas
Dick Milward Trophy for Pool Contractor of the Year
Centurion Leisure