Messages from lockdown showroom dealers
Leading WhatSpa? Approved retailers ramped up promotion for their digital services and special online purchasing discounts for customers before they acknowledged the benefits of lockdown hydrotherapy during National Hot Tub Day.
Ahead of National Hot Tub Day on March 28 hot tubs, as well as freezers, had become 'must-have' purchasing items before WhatSpa? Approved and WhatSwimSpa? Approved dealers had to inform existing and prospective customers that their showrooms would be closed until further notice in line with government instructions, but that they would be running online facilities to process orders to ensure water care can be maintained correctly during the Covid-19 coronavirus pandemic.
Yorkshire-based Jacuzzi UK, which also supplies Sundance Spas and SwimLife swim spas and has recently incorporated Hydropool showrooms within its dealer network, had only just launched a 'Make the most of your staycation' promotion to encourage prospective customers to turn their garden into a relaxing sanctuary for the summer before the government-enforced lock down, that has provided extra time for home owners to utilise an interactive online quiz to discover which Jacuzzi hot tub would best suit their lifestyle and garden project.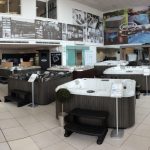 Leading Jacuzzi retailer Outdoor Living, which also supplies Artesian Spas and Vortex Spas, wished customers a 'Happy Hot Tub Day' after thanking them during the week, following the lockdown closure of their Leeds showroom, pictured, and Hull showroom location to the public and promising to rearrange current appointments for installations and servicing.
"We would like to take this time to thank our incredible customers who have been so kind and understanding as we rearrange appointments and installations," divulged a company statement.
"We will not be disappearing, we will have some staff able to work from home who will be there to answer emails, social media and return as many calls as possible."
Fellow specialist Jacuzzi retailer Euphoria Lifestyle, which in addition supplies Aqua Via Spa designs, acknowledged the national hot tub day and has also been notifying customers that online orders are still being processed normally, with ten per cent discount provision for those using a special coupon code EUPHORIA10.
The dealership also posted the message: 'We are doing our best to stay positive and look forward to seeing you all on the other side! Keep safe everyone!'
Leading Sundance Spas dealership MySpa, which also supplies Jacuzzi and Marquis brands, wished the rest of the industry a 'Happy National Hot Tub Day' as well as its 'wonderful customers, and employees'.
"It might not be the normal March weekend that many of us had planned but at least we can spend plenty of time reconnecting with those we live with and stay in touch virtually with those we can't see for a while," said a statement from the dealership.
The dealership, which has a featured project of a WhatSpa? Best Buy Award-winning Sundance Spas 680 McKinley in the 2020 edition of WhatSpa? magazine, also urged customers to keep on top of water maintenance and testing during the Covid-19 lockdown.
"Stay safe everyone and keep on top of your water testing – your hot tub is one of the best places to be right now!" said the dealership.
One of MySpa's new customer responded on social media by saying: 'Knowing my spa is sat in your showroom will make it even more special when the garden is upgraded and spa installed'.
Leading Coast Spas dealership network Award Leisure, which exclusively supplies the Regency Spas hot tub and swim spa ranges, also wished customers a 'Happy National Hot Tub Day' after having an installation project showcased in the new edition of WhatSpa? with a seven-seater Regency Spas Prince and a Regency Spas Emperor II Swim Spa providing the 'best of both worlds' hot tub and swim spa wellness for the owners of the project.
Award Leisure has also been providing ten per cent discounts on hot tubs and chemicals for NHS workers and is currently promoting a ten per cent discount on all chemicals purchased via its website facility, with free delivery for those who spend over £50.
"Although you may not be spending your weekend how you usually would, at least you can spend quality time with loved ones during these uncertain times," said a statement from the dealership.
American Whirlpool retailer and leading Marquis specialist 1 Stop Spas provided a National Hot Tub Day £500 discount on any hot tub ordered via telephone for pending customers who had previously visited the Sleaford showroom, and also rolled out a week-long ten per cent discounts on all chemicals with telephone orders over £75
"Normally we would be having a celebration in our showroom with some nice discounts on tubs, accessories & chemicals, so instead we are going to do something different," said 1 Stop Spas MD Chris Brady.
"I also just wanted to say a huge 'Thankyou' to our amazing customers who managed to reduce me to tears yesterday, your continued support, understanding and orders, in these strange times are not going unnoticed and when we are able to, we'll throw a huge hot tub showroom party to say Thankyou! Stay safe everyone and enjoy those hot tubs."
Leading Caldera Spas dealership All Swim marked the National Hot Tub Day event by declaring that every day should be a hot tub day during the Covid-19 pandemic.
All Swim had been ramping up promoting for its Piscine Laghetto Mini Playa Pool display area, as part of a new venture in partnership with Astral Pool UK Ltd, before having to close the Cardiff showroom to the public.
"Let's declare every day a Hot Tub Day until all of this is over, and when it is, you guys and gals can enjoy the biggest hot tub party," said the dealership.
The family-run company, which also promotes Fantasy Spas designs supplied by exclusive UK distributor Certikin from manufacturer Watkins Wellness, and also specialises in Endless Pools, had organised contact-free deliveries for customers to ensure minimised contact while operating during the immediate phase of the lockdown.
Artesian Spas dealer of the year North Spas announced that every aspect of the business has closed for the next three weeks, with no exceptions.
The company assured new customers that any monies that have been paid to the company, as part of deposits, sales and services, are safe.
Fellow Artesian Spas dealers, which also supplies and Marquis products, Complete Spas has been promoting the fact that it is now operating digitally to complete chemical orders and is also taking the initiative with an extra discount of ten per cent for customers utilising the online service with the special discount code of EGGSTRA10.
"We are contactable via email or phone for orders and offering collection/drop off facilities without face to face contact," said the dealership.
HotSpring World, which supplies the HotSpring hot tub range by Watkins Wellness, along with Endless Pools, also marked National Hot Tub Day after launching a 'Spring into Finance' with zero percent interest free deals on selected HotSpring collection models. The showroom network has also been providing free delivery on all HotSpring World shop orders, as well as promoting the pre-ordering of the 2020 revamped HotSpring HotSpot models.
"The teams will be working from home to continue to support customers and enquiries. We will communicate to everyone as much as possible," said a statement by HotSpring World, which has showrooms in Ashford, Cambridge, Chelmsford, Derby, Milton Keynes, Norwich, Nottingham, Peterborough, Reading, Sevenoaks, and Weybridge.
British manufacturer RotoSpa, which has been swamped with calls from customers asking about the safety of using hot tubs during the lockdown, wished fellow manufacturers a 'Happy National Hot Tub Day, as well as suppliers, dealers associations and customers, while calling for unified support.
"Take time for yourself this weekend and recharge those inner batteries!" said a company statement; "Lets support our customers and each other through the month ahead."
Softub UK & Ireland has been promoting the fact that it is running a sale promotion of 50 per cent discounts on selected products with contactless delivery and installation options for new customers and also highlighted the fact that the lock down was providing the benefit of closer contact with immediate family members.
"One of the perks of staying at home is you can spend quality time with your loved ones," said a company statement.
Wellis UK wished everyone a Happy National Hot Tub Day after highlighting that a hot tub from the Hungarian manufacturer had been supplied by Adam Hunt at the Johnsons Hot Tub Outlet Wellis Whitstable showroom as part of a donation project to a family with a three-year-old son who suffers from a form of cerebral palsy and is now able to strengthen his muscles during the lockdown thanks to doses of Wellis hydrotherapy.
Meanwhile generous Hydropool UK, whose staff should have been attending the Ideal Home Show, due to run from March 27 to April 13, at Olympia London and are now conducting a promotion of stock that was scheduled to be showcased to prospective customers at the event, are donating 50 per cent of their commissions to the National Emergencies Trust during the Covid-19 coronavirus pandemic emergency lockdown.