Superior Wellness has launched a revamped website for its Miami Spas retailing operation that is hot on the heels of a rebranding initiative and the announcement of a new range of wet leisure products.
The enhanced www.miamispas.co.uk website; which highlights saunas and baths with a French theme, including the Paris Whirlpool Freestanding Bath, as well as hot tubs and swim spas at two showrooms in Chesterfield and Derby; has a revamped homepage and is built on a 'mobile first' format design. This is because the majority of the website's traffic is browsed on smartphone and mobile technology.
Now the enhanced online resource ensures there is greater focus on e-commerce and has the enhanced customer experience capability to deal with further demand for hot tubs during a third national lockdown.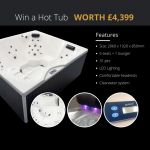 As part of 2021 sales and marketing initiatives for the revamped Miami Spas website, there is currently a chance during the lockdown for a lucky entrant to win a five-seater Pisces model hot tub worth £4,399, which has lounger seating within its design, before the January 31 deadline.
At the same time the website is promoting 'January Sale' offers of up to £1,400 on hot tubs and £200 on baths. It follows on from a December initiative to boost local charities with £10 donations from every hot tub sale.
Superior Wellness Head of Marketing Sarah Elphick has thanked the recently expanded marketing team and sales team for their hard work in ensuring the successful launch of the Miami Spas website after it gained the benefit from a 'big team' effort.
"The website will continue to evolve as we add more content to it and make continuous improvements," explained Sarah. "It now really comes alive on mobile."
Superior Wellness has also reaped rewards for its online training and development platform 'Notion' that proved to be a vital resource during the Covid-19 pandemic lockdown restrictions last year and will again be utilised in the third lockdown period.  It has now become an industry award-winning online platform with a library of manuals and videos to assist all team members and partners.
As well as providing user-friendly social distancing training for the technical team, delivery drivers and dealer partners, Notion also enables training for the company's CRM system without the requirement for face-to-face contact.
Along with trade recognition for Notion, Superior Wellness has additionally gained 2020 top awards for its Superior Wellness website, and won the 'UK Team of the Year' title. This follows its expanding team growth; which has been boosted with the recent arrival of Mark Needham, as Head of Operations; Joseph Parry, in the role of Customer Support Technician; and Matthew Thomason-Vardy, as a Stock Controller/Buyer. A 'Spa Technician of the Year' accolade has also been bestowed on Nic Walker.
"The team has been working hard and it's great to see that all of their hard work has been recognised," said Superior Wellness Managing Director Rob Carlin; "I'm extremely proud."
To meet further high demand for hot tubs and swim spas, Superior Wellness has announced that it will be launching a new range of Thermals by Superior Wellness hot tubs and swim spas to improve dealer and consumer choice this year ahead of moving into newer offices before a previously planned new office and warehouse facility has even been completed.
Head of HR Carol Claydon has had a busy year overseeing a host of new employees join the ranks of the rapidly expanding Superior Wellness team, and has marked her first anniversary with the company by highlighting that she feels 'blessed' to be part of the growing 'family'.
Carol was appointed to the role in January last year just in time to be part of the preparations for the large exhibitor stand presence at SPATEX 2021 at the Ricoh Arena in Coventry. This time Superior Wellness will be taking part in the SPATEX Virtual format hosted online due to Covid-19 restrictions at the start of February, which is marking the 25th anniversary of the wet leisure showcase.
"Working for Superior Wellness for a whole year has been exciting and hugely rewarding," reported Carol.
"I have been blessed to be part of such a fabulous family. It has been very challenging as our company has grown at such a rapid rate, but such an achievement to see what we have all achieved as a team."
www.miamispas.co.uk/competition