Move to specialist hot tub HQ
Multiple brand dealer Cornish Hot Tubs is preparing to enhance retailing services by making the bold move to new headquarters as part of the next chapter in its involvement in the hot tub market.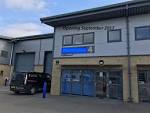 The Clearwater Spas main dealership will be occupying a purpose-designed 4000sq ft headquarters building, pictured, at Unit 4, Indian Queens Trading Estate, Warren Road, Indian Queens. This specialist 'Hot Tub HQ' will provide sales service, admin and distribution all under one roof.
Cornish Hot Tubs, which currently occupies the Carnon Downs Garden Centre display site, has been promoting a wide selection of hot tubs from Catalina Spas, Clearwater Spas; L.A Spas and Superior Spas ahead of the move. A number of stock clearance offers have included the 2017 WhatSpa? Best Buy Award-winning L.A Spas Belmar from the pedigree brand's Adventure Series that has been proclaimed for its unique Aqua Klean washable filtration bags and new barrier-free and stylish shell design in the £5,000 to £7,499 price range of the consumer magazine's latest Best Buy accolades.
The 2017 WhatSpa? Best Buy Award-winning Superior Spas Dream; along with the Bliss and Paradise hot tub options from the Hungary-based production line of Wellis; have also shared the spotlight, along with the many USA-manufactured models being showcased by Cornish Hot Tubs this year.
In addition, the Covana automated cover system; which has been heavily promoted to the trade by Essex-based L.A Spas and Vita Spa distributor Aqua Warehouse Group during the past year; has also been highlighted to prospective customers ahead of the transition to the new headquarters premises that are set to be fully operational from the start of October.
On the swim spa front, promotion of models from leading USA manufacturers during the summer has included the 2017 WhatSwimSpa? Best Buy Award-winning L.A Spas In-Fit 13 Pro, from the £15,000 to £24,999 price category; and the Catalina Spas Olympic 21 Dual Temperature model from the over £25,000 price category; which is distributed to UK dealers by Aqua Design and Leisure, who are also exclusive distributors for the Clearwater Spas models that Cornish Hot Tubs is preparing to showcase at its new location.
Cornish Hot Tubs Managing Partner Tim Roberts is now looking forward to being able to provide what he believes will be the best range of hot tub and swim spa choice in the south west, from at least three different pedigree manufacturers, once the new HQ is up and running, after the move that is scheduled to be completed by the end of September.
"This near 4000sq ft indoor facility will include admin, service, and distribution and the largest selection of hot tubs in Cornwall," reported Tim.
"With over ten spas and swim spas on display from three different manufactures we will be able to offer our customers the best range and choice in the south west, all indoors in a fantastic facility."