NASA technology in hot tub duo
Hot tub and swim spa distribution specialist Aqua Design and Leisure is proclaiming that the launch of two new Catalina Spas models will provide dealers with 'world first' unique designs to promote to the market.
The new Catalina Classic CL10 and CL20 models have harnessed technology developed by NASA that are claimed to have health benefits from special LED lighting programmed at specific wavelengths as part of the advanced collagen LED light therapy system incorporated into a hot tub.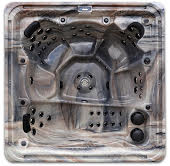 Salisbury-based Aqua Design and Leisure Managing Director Stephen Crabb has welcomed the introduction of the unique collagen LED light therapy system design element of the CL10 and CL20, pictured, hot tub models, which he believes can provide dealers with the opportunity to promote the wellness benefits and beauty salon-style treatment to prospective owners.
LED light, in particular red light, was originally adopted by NASA after it proved that it helped to heal wounds, and burns. It has now been widely adopted by high-street salons. This is due to the fact that red light lies next to infrared on the at the end of the visible part of the light spectrum; and its wavelengths disable inflammation triggers that can be linked to acne, pigmentation and rosacea.
In the cutting-edge 'Hydrolight' therapy seat the collagen lights can be independently switched from the perimeter LED lights, while a 360° perimeter cascading waterfall has been incorporated into the design to raise the perimeter to ensure users are sitting lower in the hot tub; so that it is able to provide additional privacy and prevent their soak session being disrupted by any cross winds.
"The health benefits of special LED lighting programmed at specific wavelengths has been known for many years and is used extensively in beauty salons and in therapy throughout the world," said Stephen.
"We believe we've introduced the world's first collagen LED light therapy system to a spa. So now in addition to the therapeutic benefits of hydrotherapy you can enjoy these further benefits of collagen LED light therapy all in a Catalina.
"This technology was first developed by NASA. We've taken the technology and developed it to install within a specially designed therapy seat in the all new Catalina CL10 and CL20 spa models.
"These spas are also unique in that they have a 360° perimeter cascading waterfall that raises the perimeter of the spa so the bather is sitting lower thus avoiding any cross winds and giving added privacy."
Both models feature Bluetooth stereo and subwoofer as standard and are being launched to target consumers with budgets suitable for the sub £8,000 market.
The duo are now among the growing range of Catalina Spas hot tubs; which include the 2017 WhatSpa? Best Buy Award-winning six-seater Express CE4.
Coming in at 203cm x 203cm x 86cm and incorporating a lounge seat, the Express CE4 has been designed specifically for the sub £5,000 market and has earned its prestigious WhatSpa? Best Buy Award status thanks to its pedigree manufacturing qualities and sales success during the past year.
On the swim spa front, Catalina Spas has been bestowed with a 2017 WhatSwimSpa? Best Buy Award for the Mardi Gras 12, along with the multiple Best Buy Award-winning Catalina Spas Relay 18 Dual Temp; and the Catalina Spas Olympic 21, which both combine the best design elements of the Catalina Spas swim spas and hot tubs.