Next level for 'Coming of Age' extravaganza
SPATEX organisers have announced that the hot tub and swimming pool extravaganza will be going fourth to another level when it returns to Coventry next year to celebrate its milestone 'Coming of Age' 21st edition.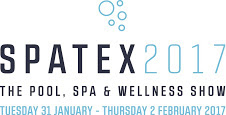 With over 65 per cent of available exhibition stand space sold in the space of just five weeks, organiser Michele Bridle has revealed that all the indications are that SPATEX 2017 is going to be the headlining wet leisure industry event of the year in the Jaguar Exhibition Hall of the Ricoh Arena from Tuesday, January 31, to Thursday, February 2.
"We are grateful and very appreciative to our exhibitors for such a promising start to the year," said Michele.
"A lot of the stand bookings are on the back of a hugely successful SPATEX 2016 show, which created such a buzz and feel good factor in the industry.  We are planning on building on that success and making the show even bigger in 2017. 
"You can expect all of SPATEX's much-loved, familiar ingredients, coupled with some exciting new twists!  All sectors of the wet leisure industry, from manufacturers, suppliers to installers, including all the biggest names from both home and abroad, will come together for three action-packed days at Coventry's Ricoh Arena. The best of wet leisure will be all in one place."
With demand for space expected to exceed that achieved for the 20th edition, Michele is expecting to receive bookings for more than 100 exhibition stands for the 'Coming of Age' wet leisure showcase that is adopting a new mid-week format for the 2017 outing. Michele also revealed that preparations are currently being made for a special networking event to mark the 21st anniversary.
"Well over a hundred eye-catching stands will feature the UK's largest display of innovations and products," declared Michele.
"The highly popular double seminar programme will return. Esteemed bodies, such as ISPE (Institute of Swimming Pool Engineers), PWTAG (Pool Water Treatment Advisory Group) and STA (Swimming Teachers Association) will once again be playing an integral part by lending their gravitas and imparting their expertise and knowledge in the industry's most comprehensive free technical training programme.
"As this will be SPATEX's 21st anniversary, no milestone would be complete without a celebratory networking party and a few surprises. Watch this space for details as the year unfurls."
While the host venue in Coventry continues to remain the same, Michele has reported that there are changes being made for the SPATEX 2017 website to ensure even greater user-friendly navigation.
"It's a dream to navigate and has a host of fresh new images," reported Michele.
To book stand space for SPATEX 2017 contact the SPATEX team via email: helen@spatex.co.uk or michele@spatex.co.uk or telephone directly on: +44 (0) 1264 358558.