Ocean of spas for SPATEX 2019
SPATEX organisers have declated that hot tub dealers will be able to plunge into an 'ocean of spas' during the 2019 edition of the wet leisure showcase at the Ricoh Arena in Coventry.
While making the final preparations to ensure SPATEX builds on its back-to-back success at the West Midlands venue, organiser Michele Bridle has proclaimed that the exhibition, which will be the 20th edition that she has been involved in, will break records and surpass all others on the hot tub product front due to phenomenal demand for stand space from existing exhibitors and new ones making their debuts.
Dealers are now being encouraged to take advantage of a bumper list of hot tub and swim spa product exhibitors by registering for free for the 23rd outing of SPATEX, running from January 29 to 31, as the final countdown begins until the doors open to the packed out Ericsson Exhibition Hall.
Michele has reported that the floorplan for SPATEX 2019 has been ingeniously restructured to provide more space and allow a greater number of larger stands for exhibiting companies. These include: Aqua Warehouse Group, which will be promoting its new European distribution deal for Covana automatic cover systems, as well as its booming American Whirlpool and Vita Spa hot tub and swim spa ranges; Astral; Certikin, distributors of the Caldera Spas and Fantasy Spas hot tubs ranges from Watkins Wellness, Fairlocks, Superior Spas, distributors of the Be Well Spas range, and Villeroy & Boch.
Passion Spas, Riptide Pools, SCP UK, Softub and Wellis will also be among the hot tub and swim spa brands returning to the Ricoh Arena for a successive SPATEX appearance.
Spa Crest Europe, is continuing its long consecutive run at the annual exhibition by introducing a new hot tub brand name to SPATEX and the trade audience with the official launch of the Conquest Spas lines by Saratoga Spas, alongside its other established products Spa Crest, Tuff Spas, and Premium Leisure swim spas for its network of UK dealers.
Spa Solutions will be among the exhibitors showcasing brand debuts at SPATEX including the futuristic Vortex IKON, which incorporates an aluminium composite cabinet and acrylic shell within its design.
Princess Spas and Sunbeach Spas are other exhibitors among the hot tub brands making their debut during the 2019 edition of SPATEX.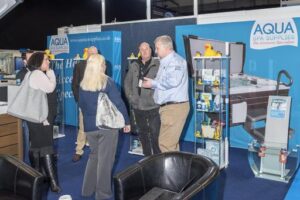 Aqua Spa Supplies, pictured, Golden Coast, LaMotte Europe, O-Care, SpaTech Training & 1Stop Spas Trade are also gearing up to promote a wide range of hot tub and swim spa products and accessories to visitors throughout the three days of the exhibition.
"Twenty-eight spa related companies, including some of the biggest names in the business, will be exhibiting at SPATEX 2019," reported Michelle.
"Last year, the exhibition hall was a sea of spas. I can confidently predict that in 2019 we will have an ocean!
"We've never had so many spa related companies and amongst all the familiar names we will be welcoming a lot of new blood. A lot of the stands will be showcasing fabulous new models and accessories.
"Take for instance, Spa Solutions which will grandstand the futuristic Vortex IKON spa. Spa Crest is also delighted to announce it has taken on exclusive rights to market the Conquest Spas brand by Saratoga Spas across the UK and will be displaying these at SPATEX alongside its other established products."
Throughout the three days there will also be a host of hot tub related topics within the bumper programme of seminars organised in conjunction with the Institute of Swimming Pool Engineers (ISPE).
Among the new topics that have recently been scheduled for the opening day of SPATEX is a seminar by Aqua Warehouse Group, on January 29, from 4pm to 4:45pm, to help businesses increase their wet leisure product sales capabilities without impacting on their day-to-day operational activities.
During the following day, on January 30, of SPATEX Liz Holmes from Commercial Spa Strategies, will highlight how to create a profitable spa strategy, from 11:30am to 12noon.
Later in the second day there will be an informative seminar by BISHTA Chairman Chris Hayes who will be speaking on 'What can we learn from our colleagues around the world?' from 3:30pm to 4pm.
Throughout the final day, on January 31, The Pool Water Treatment Advisory Group (PWTAG) will be hosting a special day of seminars relating to the maintenance of spas dedicated to hot tub and spa professionals, which will be running from 10:15am to 3:30pm.
"Exhibitors and new products aside, the free to attend double seminar and workshop programme will also feature lots of spa related topics providing essential guidance," reported Michele.
"The SPATEX team are working hard to match, and hopefully surpass, last year's show where we recorded a fantastic 8.5 per cent increase in visitor numbers. All the ingredients are in place for a fantastic show."
For further details or to enquire about stand bookings for SPATEX 2019, contact the SPATEX team via email: michele@spatex.co.uk or helen@spatex.co.uk or directly by telephone on: +44 (0) 1264 358558.