Outdoor Living joins IKON revolution
Flourishing hot tub and swim spa retailer Outdoor Living has become one of the first UK dealerships to supply the revolutionary IKON hot tub from Vortex Spas that is being distributed by Spa Solutions.
Respected hot tub distribution specialist Spa Solutions has secured an exclusive deal to supply the innovative IKON model from Vortex Spas to a network of dealerships after many years of success within the UK and European market promoting WhatSpa? Best Buy Award-winning brands. The IKON has now joined the prestigious Best Buy Award-winning ranks after making an instant impact with an inaugural accolade in the 2019 edition of the consumer magazine.
It was launched to the UK trade at SPATEX 2019 by Essex-based Spa Solutions Managing Director Anthony Schneikert and it also made an immediate impact with Jacuzzi and Sundance Spas specialist retailer Outdoor Living that is now promoting the unique model at its revamped Hull showroom.
Outdoor Living, which has another showroom in Leeds that has received BISHTA 2019 Gold Award recognition in the prestigious 'Showroom of the Year' category, has quickly reacted to the launch of the IKON by introducing it to prospective customers at the newly-enhanced Hull showroom that was bestowed with a Bronze accolade in the 2019 BISHTA AWARDS.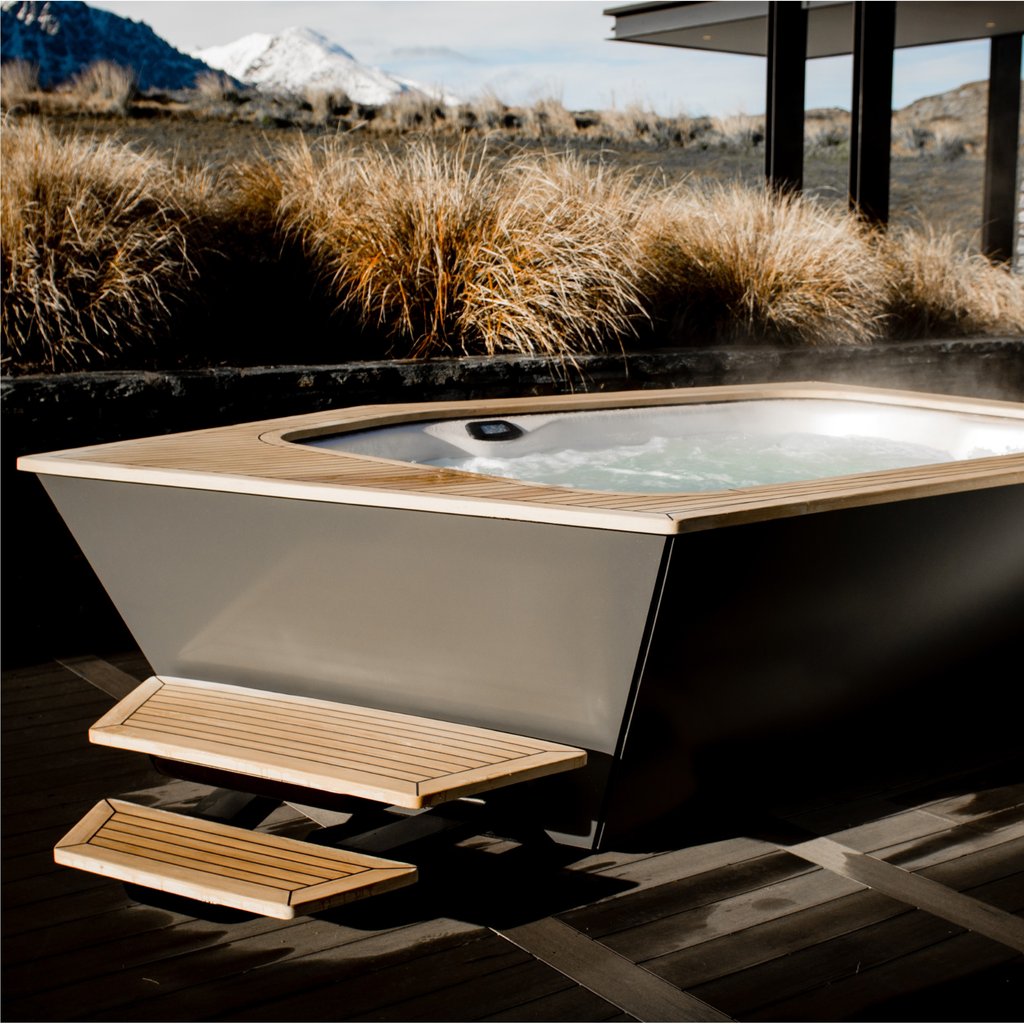 Coming in at 364 x 225 x 90cm and incorporating 18 hydrotherapy jets, the IKON, pictured, has an RRP price tag of just under £19,000 and as part of the promotion of its distinctive design dimensions it is being promoted in the latest issue of WhatSpa? as an 'out of the box' spa that has been making global waves ahead of becoming available to UK consumers thanks to an unlikely pairing between a New Zealand architect and an international car designer.
Vortex Leisure; which is proclaimed to be the largest spa and swim spa supplier in the Southern Hemisphere and is renowned for producing high quality hot tubs backed by clever design and excellent customer service, has teamed up with architect Jorgen Andersen and international car and product designer Alain Brideson to produce the IKON; which has an irregular polygon shape, unconventional aluminium composite exterior, and material found on super yachts.
A significant innovation attraction for owners is IKON's shape, with its faceted irregular polygon form and top deck under a design patent. For the first time, light weight, floating architectural stairs are integrated into the main spa design.
Unlike conventional spas, the architectural cabinetry is made from aluminium composite cladding, which is utilised on the exterior of the Dubai train station, and its maintenance free Flexi-teek decking is used for super yacht production.
Within its lounge-seating design the IKON has the capability to accommodate six adults and has a water capacity of 1,159 litres. In the WhatSpa? Verdict in the £15,000 Plus price category of the 2019 Best Buy Awards highlights that the IKON is being endorsed by gold medallist and swimming icon Ian Thorpe.
The WhatSpa? Verdict also states: 'Anyone that has enjoyed the excitement of stepping onto the sleek hardwood deck of a cruise ship or luxury yacht for the first time will appreciate the designer irregular hardwood topside deck and floating hardwood steps featured on this new 'ikonic' hot tub.
'If you have a designer home and are looking for an award-winning architect-designed spa to bring indoor styling to your outdoor living space, this is it!'.
Ahead of the summer, meanwhile, Outdoor Leisure has been promoting its services to consumers in the latest edition of WhatSpa? and has also been highlighting that it is proud to have been given the opportunity to donate a Jacuzzi J225 hot tub model to a deserving family from Hessle, that was recently featured on the BBC One series 'DIY SOS: The Big Build'.
During the recently aired episode, the J225 hot tub was used as part of a 'life changing' transformation to the home of grieving dad-of-three Darren Hudson. The roofer suffered from a bad back for years and then was rushed into hospital with caude equina syndrome. That caused a devastating injury to his spine and left him paralysed from the waist down.
After his wife and 'childhood love' Sarah passed away Darren was left physically unable to cope; until the DIY SOS team and many volunteers came to his rescue and transformed his home to ensure maximum accessibility.
"Outdoor Living were privileged to be given the opportunity to donate a hot tub as part of a life changing transformation to their home," said Outdoor Living's Paul Margerison.
www.outdoorlivinghottubs.co.uk/collections/hot-tubs/products/vortex-ikon-spa