Passion Spas praises loyal staff
Dutch hot tub and swim spa specialist Passion Spas has praised the headquarters team that has helped the company to continue to rise from the ashes and service its dealer network following a devastating fire.
Despite the massive setback that cost the international spa distributor the loss of 65 per cent of its company, Passion Spas was among the hot tub and swim spa exhibitors at the former UK Pool & Spa Expo that returned to the Birmingham NEC as the newly renamed Hot Tub Living Expo in October and is also set to showcase its latest models at the Piscine Global wet leisure showcase in Lyon next week ahead of attending the 21st edition of SPATEX at the Ricoh Arena in Coventry.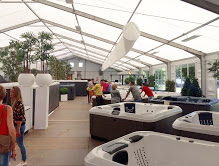 Along with his duties on the exhibition stands, the company's founder Dolf Nieland is currently overseeing a major rebuilding project at the Passions Spas headquarters facility in Holland that was engulfed in fire in July resulting in devastating damage. He has highlighted the support of his loyal staff members as being a key element in the company being able to adapt to the current conditions, including a temporary showroom structure, pictured, to operate successfully during this three-month period.
"The staff members at our headquarters have been very helpful and really supportive," said Dolf. "We had three members who left the company just after the fire but everyone else has been working hard to help maintain our services and overcome such a big hurdle.
"Immediately after the fire we had a temporary tent structure erected while we commenced with a temporary base for our retail operation. We had people working on the phones straight away."
Sales have improved compared to last year's final figures, and Dolf believes that the company's ability to bounce back quickly has proved to be critical in this success.
"Even though we've suffered the fire, we've shown that our operation is more than just a building and we've been able to continue our services for our customers and dealers," said Dolf; "So we've still had a great year in terms of sales compared to 2015.
"One of the advantages of being able to continue operating was that our dealers did not suffer any impact or lose any of their own momentum during the summer."
After overcoming the initial emotional process worrying about the impact of the fire and the immediate future of the company Dolf is now confident that the rebuilding process will provide fresh impetus for the Chinese-manufactured product range and Passion Spas brand.
"It took me personally a month to get over it but there were no tears as I knew we had to just get on with it and keep everyone motivated," divulged Dolf. "We now have to look forward and we will continue to develop in the future.
"We're looking to have everything completed by Easter. That's the challenge.
"There is a lot of work still to do but it's all looking good now and we will have a much better showroom once it's finished next year."
Current and new hot tub and swim spa models will be showcased at the four-day Piscine Global wet leisure showcase in Lyon, from November 15 to 18, ahead of Passion Spas returning to the Ricoh Arena in Coventry during the 21st edition of SPATEX, from January 31, to February 2.
To book exhibitor stand space for SPATEX 2017 contact the SPATEX team via email: helen@spatex.co.uk or michele@spatex.co.uk or telephone directly on: +44 (0) 1264 358558.