Praise before hot tub launch anniversary
Seasoned hot tub specialists Jamie and Julie Giles known as The Hot Tub Man and Spa Maintenance Services have gained instant sales success after adopting the Artesian Spas brand at their latest showroom location.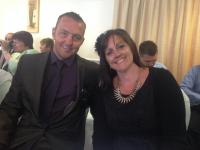 Following the relocation of their Hot Tub Man company to Number 3, Hilton House, at the Bottings Industrial Estate in Southampton where Spaform was previously based, Jamie and Julie, pictured, turned to Artesian Spas to provide them with a pedigree range of hot tubs produced by May Manufacturing.
The delighted couple have now praised Doncaster-based distributor Artesian Spas for providing them with pedigree hot tubs combined with fantastic support to ensure their first year with the brand has run smoothly.
"It's worked out really well for us," said Julie. "We've been selling these lovely tubs every month since we took them on. The finish of them is amazing and we're very impressed with the new cabinets.
"The support from Artesian Spas is also fantastic and they treat us as part of the team and they are always very supportive whenever we call them for assistance.
"We're also linking up with a gazebo supplier to promote their range alongside the Artesian Spas choices this year."
Jamie originally worked for Spaform drilling holes for the hot tub jets to fit in. After progressing to installation work for a few years Jamie was forced to work in the office following a factory fire. He later saw an opportunity to develop his own specialist company that would be able to provide the experience to carry out warranty work for Spaform customers and The Hot Tub Man was born.
Over the years Jamie has helped to service and relocate many Spaform models for their existing owners, while promoting additional hot tub brands with Julie at two additional locations including their second showroom site in Botley. The couple are now establishing new hot tub retailing roots following their move to their third showroom at the former site of the Spaform factory in Southampton.
Before choosing to opt for Artesian Spas in 2015 Jamie and Julie were very close to becoming Master Spas dealers ahead of existing Master Spas retailers having to come to terms with the news of Hot Tub Superstore's supply deal with the manufacturer later in the year.
The couple are now counting themselves lucky that they have gone down the route of becoming an Artesian Spas dealership, which was officially launched in their showroom in July and will be celebrating its first anniversary this summer.
"We were very close to becoming a Master Spas dealer but at the final stage of the process there were some issues we couldn't iron out with them," reported Julie.
"So instead we looked at other options and decided that Artesian Spas would be the perfect for us.
"As it turns out we took the right decision. If we had gone with Master Spas it would have been another major upheaval for us and we would have had to search to find an alternative supplier and brand to promote this year."
"We've thankfully been lucky by bringing the Artesian Spas brand to our showroom and it's worked out really well for us now."