Prestigious opportunity for European accolade
Top British hot tub retailers have been given the opportunity to gain a prestigious trade accolade by being entered into the 2019 European Pool & Spa Awards at Aquanale 2019.
Since 2013, the European Pool & Spa Awards ceremony has been a spotlight on the most innovative domestic pools, spas and hot tubs on the continent. The seventh European Awards, hosted by the European Union of Swimming Pool and Spa Associations (EUSA) are set to be announced at Aquanale in Cologne, Germany, on November 7.
Leading the way for the British market in the 'Domestic Hot Tubs' category will be an entry from Coast Spas and Regency Collection specialist dealer network Award Leisure; who will be joined by Jacuzzi specialist Euphoria Lifestyle; along with fellow Jacuzzi retailer Tanby Pools, Artesian Spas specialists North Spas and Hot Tub House Yorkshire, and Hot Tub Suppliers; who have all been previous winners in the British Pool & Hot Tub Awards, hosted by BISHTA and SPATA, which makes them eligible to be nominated for the EUSA European Pool and Spa Awards.
The primary purpose of EUSA is to support the development of a stronger and more prosperous business community throughout Europe. Firstly, to lobby on behalf of the industry, on topics such as the development of European standards; thus promoting safety. Secondly, EUSA has a significant role to play in promoting the industry.
Success in the EUSA Awards is recognition from the industry for the quality of the work being entered, and also celebrates the excellence within the wet leisure industry across Europe.
The EUSA Awards are open to all National Associations that are EUSA Members. Each entry submitted by a EUSA member must comply with the relevant National Association Standards, where applicable, and with European standards and they may be disqualified if this is not the case.
Judges for the EUSA Awards will assess the entries on their visual impact, innovation and aesthetic appeal. The identity of each entry will not be given to the judges; this means that judges can vote for any entry, based on which they believe to be the best.
The EUSA judges will aim to have a Gold, Silver and Bronze award winner in each category, subject to their being sufficient entries, of suitable quality.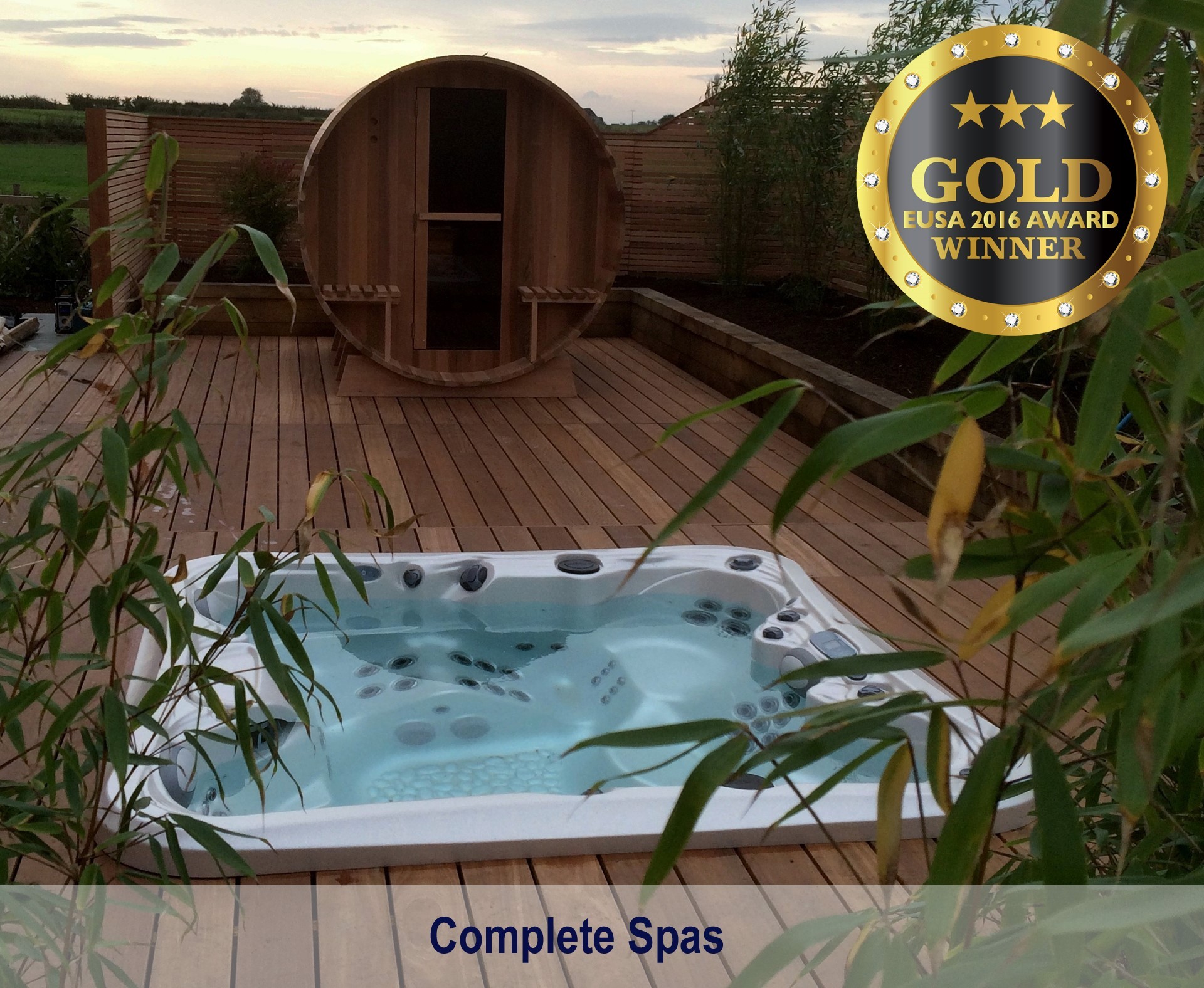 This year's contenders are hoping to follow in the footsteps of Complete Spas who have gained European award glory with a 2016 EUSA Gold Award presented during the ceremony held in Bologna for a hot tub and sauna installation, pictured, that has been featured in WhatSpa? magazine and has become a significant sales and marketing asset.
Run by husband and wife team Pete and Rachel Grinnall, Worcestershire-based Complete Spas was established over a decade ago and has gained a high profile in the industry with trade accolades that include this year's 'Dealer of Excellence' Award from Artesian Spas; and an 'Outstanding Performance' accolade from Marquis.
The dealership has also been rewarded with the 'Ten Years of Excellence' award from distributor Artesian Spas UK in Doncaster.