Record sales following hot tub donations
Hot tub specialists at HotSpring World Peterborough helped to secure the showroom's best ever annual sales performance in eight years after boosting local charities with special prize donations of a Cascina and Jetsetter.
A host of sponsorship and promotional activities plus publicity from various charity events, including an auction night with a Star Wars actor to increase the bids for a donated hot tub, have helped to boost the profile of the HotSpring showroom that is based at the Dobbies Garden Centre at Serpentine Green. This, combined with the efforts of the dedicated hot tub sales team, has secured a record-breaking sales total for 2015.
"During the last few years we've been building a lot of sales success momentum and this has resulted in us achieving our record-breaking performance," explained Sales Consultant at HotSpring World Peterborough Claire Kelly, who is based at the showroom with Branch Manager Billy Harbison.
"We've been working hard to ensure our sales have improved annually in recent years and I'm feeling very positive about the future and confident that we can continue this run."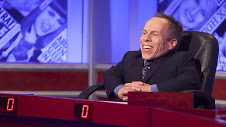 Star Wars actor Warwick Davis, who has been a guest host on the satirical panel quiz 'Have I Got News for You' for the BBC, helped to force up the bids for a donated Jetsetter model by HotSpring World during a special auction night event to raise extra funds for the Amazon Ward at Peterborough City Hospital.
Warwick, who played Wicket the Ewok in 'Return of the Jedi', and has had a cameo role in the latest Star Wars blockbuster 'The Force Awakens', provided his compere services to help HotSpring World Peterborough's donation of the three-seater Jetsetter from the Highlife range to raise money for the children's ward. The fact that it was a HotSpring model that he owns himself, which features a lounge seat and a Moto-massage DX jet, proved decisive in his efforts to force the bids to the final £6,000 total.
"It was fantastic that Warwick could help out with the auction that raised the final total of £6,000 for the children's Amazon Ward of Peterborough City Hospital," said Claire.
"Warwick lives near to our Peterborough showroom and owns a Jetsetter himself, so it was great that it was this particular model that we had donated for the auction."
The auction followed publicity for the donation of a four-seater Cascina model that was the star prize in a raffle draw to help boost a newly-launched research fund that has been inspired by a five-year-old girl who suffers from a rare genetic skin condition.
Phoebe Crowson was diagnosed with Recessive Dystrophic Epidermolysis Bullosa, known as EB, which causes the skin to blister and break away at the slightest touch, shortly after being born.
To help raise money for research into her daughter's condition Zoe Crowson established The Phoebe Research Fund, which was boosted last year with a 'Charity Dinner and Auction' at the William Cecil Hotel that featured the HotSpring Peterborough's Cascina prize donation that was won by a local Stamford resident.
"The middle-aged man who won the top prize of the Cascina is now very happy with his new hot tub," revealed Claire. "He has never had a hot tub before but since he took ownership of it and having it installed in October he has been really enjoying it.
"As well as these special hot tub donations to raise funds, which provided publicity for HotSpring, we've also been sponsoring our local semi-professional men's football team Blackstones FC.
"These initiatives provided publicity that helped us to achieve record sales during 2015 at our HotSpring World Peterborough showroom."