Records being broken at SPATEX
Hot tub dealers have a unique opportunity to gain tuition and product knowledge under one roof during the record-breaking 23rd edition of SPATEX in the Ericsson Exhibition Hall of the Ricoh Arena in Coventry.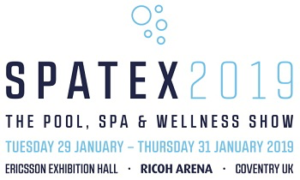 Having become a 'must-visit' edition for hot tub and swim spa retailers SPATEX, running from Tuesday, January 29, to Thursday, January 31, is preparing to break records after being boosted in the autumn and winter months by a strong influx of specialist hot tub and swim spa product companies and organisers have expanded the size of the exhibition as a result.
Never before in its entire history has the wet leisure showcase been so big and had such a stellar cast list; with a record-breaking display of hot tubs and swimming pools and a bumper schedule of seminars, with a large list of new additions on the three-day seminar schedule organised by the Institute of Swimming Pool Engineers (ISPE).
Organisers have revealed that there will be 125 companies exhibiting at SPATEX and the record-breaking displays will include 57 display spas and hot tubs, five swim spas, with at least one fully operational, six display pools, with at least one fully operational, nine display saunas and two display enclosures.
The floorplan for the SPATEX venue, which is located a short distance off Junction 3 of the M6, has been ingeniously restructured to provide more space and allow a greater number of larger stands for companies such as Aqua Warehouse Group, Certikin International, Superior Spas, and Villeroy & Boch.
Among the leading hot tub and swim spa brands and specialist product companies making consecutive appearance at SPATEX this year will be: American Whirlpool, Aqua Design and Leisure, Aquafinesse UK, Aqua Spa Supplies, Be Well Spas, BOWMAN, BSPF, Certikin International, with a dedicated promotion for the Caldera Spas and Fantasy Spas hot tub brands from Watkins Wellness, Complete Pool Controls, Covana, Darlly Europe, GMT Spas International, LaMotte Europe, O-Care, Plastica, 1 Stop Spas Trade and SpaTech Training, Passion Spas, Pollet Pool Group (PPG)with BAYROL, Riptide Pools, SCP UK, Softub UK, Spa Crest Europe with Tuff Spas and the new Conquest Spas hot tubs for the UK, Superior Spas with Be Well Spas, Villeroy & Boch, Vita Spa, and Wellis.
New faces
Along with a bumper crop of new products, SPATEX  will also be making a warm welcome to the Conquest Spas range from Spa Crest Europe; and the Southern Hemisphere-produced IKON hot tub from Spa Solutions, along with a host of new exhibitors to the Ricoh Arena, which is open to trade visitors from 9:30am to 5pm on Tuesday and Wednesday, and 9:30am to 4pm on the final day, Thursday, January 31.
Also making their debuts will be: Blue Whale Spa, Clearwater Swimming Pools, Contech UK, FITT, Hydro-Flux Aqua Products, Pacific Breeze, Princess Spas, Recotherm, Rockford, Mosaic Spa Company, Pool Products Ltd, Water ID, and Sunbeach Spas.
For a comprehensive list of the exhibitors go to: www.spatex.co.uk/exhibitors
SPATEX organiser Michele Bridle has revealed that the exhibition, which has a special significance of being the 20th edition of her being involved in, will embrace an 'ocean of spas' in the record-breaking edition that is being proclaimed as the 'year of the spa', despite a bumper crop of swimming pools being on display.
"It's the year of the spa," declared Michele. "We have never had so many companies selling spas, hot tubs and accessories gracing the stands of SPATEX before.
"In amongst all the familiar names, there's a lot of new companies making their debut and that we are very much looking forward to welcoming.
"If you want to know anything about this sector of wet leisure, SPATEX 2019 is your starting point.
"But that's not all. In amongst the ocean of spas, the hundred plus exhibitors cover every aspect of water leisure and again I am delighted to report that 2019 scores a first for being the year when we have a record number of swimming pools on display too. So, all in all, it's an action-packed show with lots for the visitor to see."
Seminar knowledge
Among the 'New Seminar' list will be the Aqua Warehouse Group Seminar on Tuesday, in Arena 2, from 4pm to 4:45pm, entitled 'Easy online shop for spa dealers' which is part of a new opportunity to help businesses tap into e-commerce opportunities via their own website.
Along with new exhibitors joining the bumper list of hot tub product companies and their pool business counterparts to promote their new products, there will be a long list of seminar topics as part of the three-day programme organised by the Institute of Swimming Pool Engineers (ISPE); which has been enhanced with 18 new titles aimed at domestic and commercial hot tub, spa, and pool product specialists.
SpaTech Training and 1 Stop Spas chief Chris Brady will be conducting a seminar entitled 'Heating hot tubs faster – and reducing energy costs' on Tuesday morning, from 11am to 11:30am; which will be repeated on Wednesday, January 30, from 11:30am to 12noon.
Before this seminar, if you are visiting the exhibition early on the second day, then you may want to sit in on Howard Gosling's seminar on 'How will BREXIT affect the transport of Dangerous Goods Regulations?' from 10.15am to 10.35am.
Later on Wednesday you may want to catch a late addition to the seminar list. Rob Summerson of FaulknerBrown Architects who will be giving an exclusive seminar to highlight the exciting development of 'The Wave', a multi-million pound high octane water park, which is currently under construction in Coventry's city centre location. It will take place on Wednesday, from 1:15pm to 1:45pm in Arena 2. During the seminar Rob will reveal how the design team have incorporated stunning feature pools 11m above street level and rollercoaster slides affording breath-taking views over the city's rooftops.
Also in the afternoon of the second day of SPATEX, BISHTA Chairman Chris Hayes will be speaking about 'What can we learn from our colleagues around the world?', from 3:30pm to 4pm.
Hot tub and spa professionals are being advised that on the final day of SPATEX, from 10:15am to 3:30pm, on Thursday, January 31, The Pool Water Treatment Advisory Group (PWTAG) will be hosting a special day of seminars relating to the maintenance of spas, running from 10:15am to 3:30pm.
Visitors to the last day of SPATEX can also find out about the importance of frequent microbiologically testing by attending the early afternoon seminar by Allen Wilson entitled 'Why We Must Regularly Microbiologically Test' from 12:15pm to 12.45pm.
In addition to the ISPE workshops, SPATEX will once again be offering a parallel programme of seminars featuring a diverse range of topics.
On Tuesday, January 29, The Swimming Teachers' Association (STA) will be holding an important Pool Plant Conference during the morning, from 10:30am to 12:05pm on; followed by a double animal hydrotherapy session, scheduled for 12:15pm to 2pm by Howard Gosling and Alison Wills from Hartpury College.
Martin Rigby of Complete Pool Chemicals will outline the impact of the Health and Safety Executive HSG282 guidance on the hot tub market during his session entitled 'HSG282 What you and your spa customers need to know', which will run from 11:45am to 12:05pm on Tuesday.
Liz Holmes of Commercial Spa Strategies is then scheduled to provide advice on how to increase the profitability of a spa facility in a half-hour session on Wednesday, commencing at 11:30am.
During Tuesday and Thursday lunchtimes of SPATEX there will be the return of the popular 'Mega-Demo.' These fun demonstrations run by ISPE will feature various aspects of water testing, allowing delegates to get 'hands-on' with equipment, alongside experts demonstrating the 'dos and don'ts'.
Also, on the Tuesday afternoon there will be a live demonstration of how to install, service and repair, both filters and pumps for domestic pools.  This has been organised as a 'must-attend' session for any pool engineers who are concerned with on-site servicing and maintenance.
Visitors to the last day of SPATEX, will be invited to discover the importance of frequent microbiologically testing by attending the early afternoon seminar by Allen Wilson FISPE, running from 12:15pm to 12.45pm, entitled 'Why We Must Regularly Microbiologically Test'.
SPATEX organiser Michele Bridle has declared that the exhibition will have 'something for everyone' when it comes to the enhanced list of workshops and seminars for hot tub, swim spa and pool professionals.
"The talks cover every aspect of water leisure and cater for professionals from every discipline and sector, both domestic and commercial," reported Michele.
For a comprehensive list of the SPATEX Seminar schedule and speakers go to www.spatex.co.uk/speakers
Top prizes
This year SPATEX visitors are also being given the opportunity to win top prizes o Apple AirPods and tickets to a Bon Jovi concert at the Ricoh Arena on June 23, simply by handing in their business cards.
If you want to win one of these prizes then leave your business card at the SPATEX Help Desk (at the entrance of the Ericsson Hall) for the opportunity to win the daily raffle prize of Apple AirPods; plus be in with a chance to win two tickets to the Bon Jovi concert and a couple's night stay at a DoubleTree Hilton.
Gala Dinner
Prestigious trade awards will be presented while SPATEX is in slumber mode on Tuesday night. Keeping with the annual tradition during the previous SPATEX outings in the West Midlands, the Ricoh Arena will also be occupied with leading representatives from the wet leisure industry gathering during the evening for the British Pool & Hot Tub Awards industry Gala Dinner following the first day of the exhibition.
Leading association members will be among the sea of wet leisure market representative in the Eon Lounge, which will be hosting the presentation of the respective accolades as part of the joint 2019 BISHTA and SPATA Awards ceremonies and the re-presentation of the ISPE Awards.
Oriental twist
This year there will be an oriental twist on networking at SPATEX. The exhibition has become well known for its annual networking party, which have had various themes over the years.
Following the closing of the second day of wet leisure showcase, on Wednesday, at 5pm there will be an opportunity to meet new contacts at SPATEX's oriental themed party to which all visitors and exhibitors are warmly invited to for free drinks and canapés in the Ricoh Arena's Clubhouse Bar.
"All visitors and exhibitors are warmly invited for free drinks and canapés in the Clubhouse Bar," said Michele Bridle.
Register for FREE at www.spatex.co.uk and to see SPATEX's record-breaking list of exhibitors
If you require further information contact Michele or Helen in the SPATEX office T: 01264 358558, or email them at: helen@spatex.co.uk  michele@spatex.co.uk