Renewed collaboration as growth continues
Renewed collaboration as growth continues
SpaFlow has welcomed Catherine Jennings to drive the financial and commercial team as orders continue to increase and operations grow for the double 2023 BISHTA Gold Award winner.
Catherine brings a wealth of financial and commercial experience from a career specialising in major construction as well as wet leisure and wellness companies, including a previous stint with working alongside SpaFlow founder and Managing Director Richard Gowland.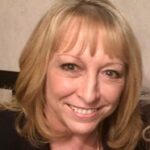 "I'm so pleased to be working with Richard again," said Catherine, "And really looking forward to helping SpaFlo continue to build and become the number one choice for stainless steel solutions." 
After achieving double trade acclaim with Gold Awards for the 'Residential Hot Tubs £14,000 and Over' and the 'Swim and Exercise Spas' categories during the BISHTA Awards ceremony of the 2023 British Pool & Hot Tub Awards earlier this, Richard has welcomed Catherine back to the Widnes-based company that has a flourishing 'Sanus Per Aquam' (health through water) product range of stainless steel hot tubs, spas, and pools, that was showcased during SPATEX 2023.
Following on from its SPATEX launch, a new WaterWall design from the SpaFlo Special Projects Division, which has developed a unique and secret overflowing weir design, has also been promoted this year on The Walker Landscape Design stand at The RHS Flower Show at Tatton Park.
"Having known and worked with Catherine for many years I appreciate the experience and qualities she'll bring to the SpaFlo team," divulged Richard.
"I'm delighted to be working with her on the next incredible part of the SpaFlo journey."
"The sound of running and falling water is calming and soothing; it brings health benefits to an office, restaurant or spa environment, with its relaxing properties."