Retro 1970's celebrations for 45th anniversary
Hot tub manufacturing giant Watkins Wellness has been marking its 45th anniversary with celebrations that reflected the sights and sounds of the 1970's.
For the historic landmark in its hot tub production Watkins Wellness, which was previously Watkins Manufacturing until 2016 following on from acquiring Endless Pools the previous year, hosted a retro 1970's theme with games, music, and costumes from that era. The event also included special t-shirts proclaiming that the manufacturer is 'Still Hot Since 1977'.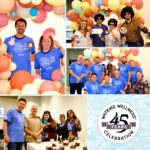 Way back in 1977 the top grossing cinema blockbuster was 'Star Wars 1V: A New Hope' and, like this long-running science fiction franchise, the manufacturer has endured throughout the past four-and-a-half decades to become established as the world's leading producer of hot tubs, with over 3,000 employees and more than 1,000 dealers worldwide.
It may therefore be appropriate that 'Nobody Does it Better' by Carly Simon was among the songs topping the charts in October 1977, at the time when Jon and Jeff Watkins built their first Hot Spring portable hot tub. Seven years later they launched the industry's first moving jet with the Moto-Massage design.
In 1986 Watkins joined the MASCO group of companies and just before the start of the new millennium in 1999 acquired the Caldera Spas brand that is now exclusively distributed in the UK by Certkin that also supplies the Fantasy Spas brand, which was acquired by Watkins in 2011 as part of the purchase of American Hydrotherapy Systems (AHS). During the same year Watkins celebrated producing its one millionth spa.
The wide range of options from the WhatSpa? Best Buy Award-winning Caldera Spas and Fantasy Spas hot tub brands distributed by Certkin are among the UK's largest stock of wet leisure equipment, comprising over 9,500 product lines, being coordinated from a new HQ facility on Witney's Downs Road at the 24-acre Tungsten Park site, where Neil Stephenson has recently taken over from Neil Murray, following his retirement after 32 years with Certikin and the last 18 being as Managing Director for the company.