Safe standards spotlight in SPATEX schedule
BISHTA Managing Director Chris Hayes will be highlighting how the association has been supporting the safe standards of hot tubs and advocating best practices to members for two decades during a special SPATEX 2022 Seminar.
Chris, who has been BSPF, BISHTA and SPATA Managing Director since 2008, will busy at the 25th live anniversary edition of the wet leisure showcase after attending other trade exhibitions at the end of last year, including the recent Futurescape Expo at ExCel in London, to increase the awareness of the many benefits of hot tubs when operated safely.
Along with his presence on the BISHTA stand at SPATEX, among a bumber list of exhibitors that can be viewed at www.spatex.co.uk/exhibitor-list, Chris will be attending the 2022 British Pool & Hot Tub Awards evening on Tuesday, February 1, before conducting the 'Promoting Safe Hot Tub Standards for 20 Years' talk in Arena 2, from 11am to 11:30am during the second day of SPATEX, hosted by the newly-named Coventry Building Society Arena.
During this session Chris will be putting the spotlight on examples of how BISHTA, which was established in 2001, has been putting its strapline of 'Promoting Safe Hot Tub Standards' to good effect with regard to: water hygiene safety, hot tub lifting, entrapment, and electrical issues.
Almost immediately after this session, Chris will be joining 1 Stop Spas chief Chris Brady, who also runs 1 Stop Spas Trade and SpaTech Training, for a seminar entitled 'Training to Safeguard your Business and People', which is also being hosted in Arena 2 and is set to run from 11:45am to 12:15pm.
This seminar will outline some of the key courses and qualifications that are available for the whole industry to benefit from, to demonstrate individual and company representative professionalism. The session is also scheduled to include updates on the use of hot tub transportation, such as trailers, and safe hot tub handling.
As part of the ISPE Workshop Arena Schedule, Complete Pool Controls (CPC) Territory Account Manager Shanaz Patel, will be discussing hot tub commissioning issues in the afternoon of the first day of SPATEX, February 1, The 'Promoting Bather Safety – The importance of commissioning a new hot tub' session will run from 2:45pm to 3:15pm in the ISPE Workshop Arena, and will cover how to promote safe and comfortable water for hot tub users.
Also during the opening day afternoon of SPATEX Adam Stevens from Sunbeach Spas will be discussing the SpaCare CMS System in Arena 2, from 3:30pm to 3:50pm and highlighting how it can streamline workflows and has the capability to revolutionise how dealerships place and track orders; as well as how showroom, delivery and engineering staff interact with each other and customers.
Jimmy Lamb, FISPE, Commercial Manager with Pollet Pool Group UK, has two ISPE Workshop Arena sessions. The first entitled 'Flocculation and Coagulation', is on February 2, from 3:15 to 3:45pm. On February 3, from 1pm to 3:30pm, Jimmy will be conducting his second seminar on 'When does a commercial spa become a hydrotherapy pool/vitality pool?'
The seminar schedule includes two ISPE Workshop sessions by Colin Jenkinson, MISPE, who is director of Leisure Safety Training. The first is scheduled for 10:15am to 10:35am in the ISPE Workshop Arena and will be a 'Health and safety update for the pool and spa operator', while the second one is set for February 2 and is going to focus on 'Water Treatment of Display Spas' and highlight the responsibilities to staff members and customers, from 11am to 11:20am.
During the final day of SPATEX, David Ramsden from CPC will be hosting a 'Shock Treatment for Spas – Why and How?' session from 12noon to 12:30pm in the ISPE Workshop Arena.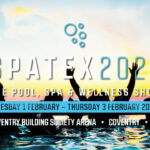 At the end of all three days of SPATEX this week, running from February 1 to 3 at the Coventry Building Society Arena, the ISPE Workshop Arena will be hosting special 'Tribute to Allen Wilson, FISPE' session.
The first day tribute session will be hosted by By John Cheek, FISPE, Managing Director of Hydrospec Swimming Pool Engineers, and the second and third days it will be by Chris Carr, FISPE, who runs CC Filtration Services and is ISPE Company Secretary.
Details of all the seminars and workshops scheduled to take place during SPATEX 2022 can be found at: www.spatex.co.uk/workshops-seminars