Six appeal of AquaSolus range
Superior Wellness has officially launched a new AquaSolus range with the option of six energy-efficient hot tub models that have high-specification functionality for dealers to target the high-end price bracket.
AquaSolus is Latin for 'health through water' and the range, which encompasses various models from all seater models to models incorporated with lounger seats, has been carefully designed with hydrotherapy wellness, water management and energy-efficiency with Eco-Heatlock. All of the AquaSolus models have been produced with a tubular stainless-steel framework, and due to its robustness Superior Wellness is supplying it with lifetime warranty on its integrity.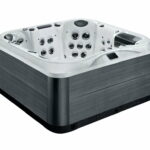 The range, which encompasses the Como, Coniston, Derwent, Garda, Lugano, and Windermere, pictured, incorporates AquaSolus HydroFlo that has been created to provide a powerful, yet controllable massage functionality, while the AquaLounge has been designed with 16 jets for extra attention on leg and calf muscles, and the HydroBlaster incorporates 7"foot jets with 14 individual jets within them.
An Aqua Everbase is formed from a single sheet of tough ABS thermoplastic for locking in heat and sealing out moisture. The Eco-Heatlock Insulation Process, where the exterior of the spas is insulated to ensure an inner heat shield, allows the heat to be reflected inwards to help maintain the temperature of the hot tub water, through a Recap-Heat process and heat transfer via the plumbing, to reduce the overall running costs.
Following an introductory 'soft launch' at SPATEX 2022, AquaSolus was officially launched at the PSP Expo in Las Vegas and Piscine Global Europe in Lyon ahead of Superior Wellness returning as an exhibitor to the award-winning Coventry Building Society Arena for SPATEX 2023, running from January 31 to February 2.
"Our new AquaSolus range sees Superior Wellness venture into the high-end, high specification hot tub marketplace for the first time," revealed Superior Wellness Business Development Manager Graham Message.
"Aimed for the more discerning customer who requires more than just fun from their hot tub, AquaSolus was designed to capitalise on hydrotherapy, water management and energy-efficiency. No short cuts were taken when we designed this range as we wanted the latest technology and only the best industry components to match the vision.
"We had to make the AquaSolus range the best we could and I'm pleased to say we have achieved the brief we set ourselves."