Soaking up holiday company deal success
Superior Spas have made a splash in the holiday park market after securing a major contract deal to supply a specialist Holiday Let Hot Tub for rental properties run by Sykes Holiday Cottages.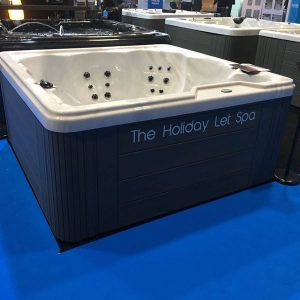 Guests staying at Sykes Holiday Cottages rental properties across the UK and Ireland will be able to take advantage of the hydrotherapy benefits of the Holiday Let Hot Tub, pictured, during their 'staycation' thanks to the firm's new partnership with Superior Spas.
The Derbyshire-based hot tub and swim spa distribution team, which provides the Platinum Spas range and now exclusively supplies the Canadian Be Well hot tub range to a fledgling UK network of dealers, is one of the rising stars in the British wet leisure market and after previously supplying hot tubs manufactured by Hungary-based manufacturer Wellis, they have secured a deal for its Superior Spas to be manufactured in the USA ahead of promoting new models at SPATEX 2018 and gaining a coveted WhatSpa? Best Buy Award in the latest edition of the consumer magazine.
As part of ambitious plans to secure a larger share of the lucrative hot tub holiday park market, Superior Spas is now the preferred hot tub supplier to the UK's leading and fastest-growing independent holiday home provider, Sykes Holiday Cottages. Supplying hot tubs to Sykes Holiday Cottages' vast portfolio of more than 10,000 properties, thousands of guests can now enjoy a luxury soak as part of their UK getaway experience.
The partnership follows the introduction of the HSG282 regulations for commercial properties and holiday lets from the Health and Safety Executive (HSE), which came into force last year. The regulations provide essential guidance on controlling potentially harmful bacteria in spa-pool systems.
To fully comply with the Health and Safety Executive's technical specifications and control of legionella and other infectious agents in spa-pool systems outlined in the HSG282 guidance, which was released in January 2017, business now need to be aware of the implications of running hot tubs and operating them correctly in the holiday park market for employees and customers.
Two of the main elements of HSG282 are the technical specifications; to ensure the correct suitability of hot tubs; and the necessary procedures to ensure safe water and documented water maintenance record keeping.
Superior Spas have reported that they are committed to customer services, reliability, and delivering products that are of exceptional quality and have revealed that they created their signature Holiday Let Hot Tub to help accommodation providers ensure all HSE regulations are met effortlessly, which helped to secure the deal with Sykes Holiday Cottages.
"Properties that have a hot tub are already one of our most popular searches on the website," revealed Sykes Holiday Cottages' Property Services Manager Stephen Lloyd
"We hope our new partnership with Superior Spas is going to give families, couples and groups of friends even more choice when they're searching for their perfect UK holiday home."
The latest model from the Superior Spas brand product range ensures that holiday cottage owners can operate with the highest standards and complete peace of mind, so additional properties could also be tempted to add a hot tub to their destination in the future.
Superior Spas Sales Director Gareth Ward divulged that the thriving company is 'thrilled' to have secured the deal with Sykes Holiday Cottages, as part of ambitious plans for growth within the British hot tub market.
"We're thrilled to have been awarded the official title of preferred hot tub supplier by Sykes Holiday Cottages," declared Gareth.
"It's a great step forward for our growth plans and a testament to the product and our commitment to making life as easy as possible for lettings and property management companies."
Superior Spas Marketing Manager Rob White highlighted that hot tubs are now the top choice for property owners to entice holidaymakers to their holiday parks and cottages.
"Hot tubs are the ideal way for property owners to catch the eye of holidaymakers looking for accommodation that offers something a bit special," said Rob; "They immediately add a touch of luxury and a relaxing feel to any stay.
"Our newest product is designed to meet all the regulation demands for commercial properties and ensure that the highest standards are always met."
Superior Spas launched their new USA-manufactured models that incorporate Balboa pumps, armex insulation and unique interface, with a large stand presence at the Ricoh Arena during SPATEX; and the six-seater Superior Spas Pacific Lounge has gained an immediate impact with a 2018 WhatSpa? Best Buy Award in the £6,000 to £7,999 price category of the consumer magazine.
The WhatSpa? Best Buy Verdict highlights that the Pacific Lounge, which comes in at 211cm x 211cm x 92cm, is: 'overall a truly impressive spa that won't break the bank'.
Additional models in the new Superior Spas range include the Atlantic Dual, Atlantic Lounge, Pacific Family, Gulf Lounge, Arctic Corner, Arctic Family, Gulf Family and Atlantic Party; which are being currently promoted with a special marketing campaign to consumers in the latest edition of WhatSpa? magazine; which has also bestowed a Best Buy Award to the six-seater Platinum Spas Santorini, in the sub-£5,999 price category, and the five-seater Be Well E585 in the £10,000 to £14,999 price category.
Superior Spas are currently working on ramping up their network of UK dealerships, to help enhance the coverage of the new hot tub range and plug strategic geographic gaps with the incentive of offering joint marketing; including sharing leads from its main website.
"Our short-term and long-term goals are to establish a larger presence of dealers around the UK." divulged Superior Spas Managing Director Rob Carlin.
"We can offer merchandising support and, most crucially, we offer quick delivery as we hold stock in the UK; and just as vitally for some dealers, we offer delivery direct to customers."