SPATEX 2022 declared 'best ever'
SPATEX organisers have revealed that the 25th live edition of the wet leisure showcase has been declared the 'best ever' after strong visitor numbers and extremely positive feedback from exhibitors.
Those who attended SPATEX 2022 at the Coventry Building Society Arena experienced a bumper list of exhibitors, including representatives from Hungary-based manufacturer Wellis. The stands and the aisles of the exhibition hall were bursting with visitors on the first day and bustling throughout the three days as the sound of positive chatter constantly filled the air.
Organiser Michele Bridle declared that there was something tremendously comforting about SPATEX returning to its 'normal' and familiar formula after the COVID-19 pandemic forced a break from the live format last year.
"It was the camaraderie of the 1,545 unique visitors and the hundred plus exhibiting companies, and their combined sense of joy at being able to reunite under one roof once more, that meant the 25th live SPATEX was universally declared the 'BEST show to date'," enthused Michele.
"That almost tangible, warm feeling that comes from doing good business was in abundance from the moment the show opened, right up to the minute it closed."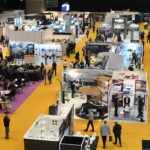 Along from a vibrant exhibition hall, pictured, brimming with a wide range of wet leisure products, accessories and services, the two seminar arenas also welcomed a steady flow of visitor traffic, with delegates keen to pick up valuable information and tips during the unrivalled double Seminar and Workshop programme.
Along with ISPE and STA, the Pool Water Treatment Advisory Group (PWTAG) provided support for the programme and also launched a 'Hot Tubs for Home' booklet, priced £10, which attracted interest and enquiries from visitors during the three days of the exhibition.
"I'm delighted with the response we received," said PWTAG's Janice Calvert; "We had a lot of enquiries and feedback, particularly regarding the new booklet."
Caldera Spas and Fantasy Spas distributor and wet leisure product powerhouse Certikin was also among the SPATEX regular exhibitors that provided very positive feedback after returning to the Coventry venue following a two-year break due to the COVID-19 pandemic restrictions.
"From Certikin's point of view, 2022 was the best attended SPATEX for many years," enthused Richard Way; "We are delighted with the quantity and quality of footfall on our stand, with key decision makers making up a high proportion.
"With no physical show for two years, we found visitors wanted to get out and see the new products for themselves. Viewing on a screen is no substitute for being able to feel and touch the equipment."
1 Stop Spas Trade continued a run of successive SPATEX appearances with promotion of the Tuff Spas brand and was rewarded by attracting a 'nap hand' of new dealers to the Tuff Spas UK network.
"This is our fourth SPATEX and it's been the best by a long way," said 1 Stop Spas chief Chris Brady, who launched a dedicated Master Spas Nottingham showroom last year; "We relaunched Tuff Spas and signed five new dealers at the show. Not bad for three days' work!"
Former long running SPATEX regular Golden Coast also provided positive feedback after returning as an exhibitor with an experienced team on a promotional screen stand format promoting a wide range of wet leisure products and accessories.
"It was great to be back at SPATEX, our first time in four years," said Golden Coast Sales Director Adam Clark; "For us it wasn't about products this year, it was about seeing our clients.
"SPATEX represents a great opportunity for TeamGC to meet customers old and new, the atmosphere felt positive, and we all loved it."
Michele Bridle added: "A heartfelt thanks to all our fabulous visitors and exhibitors. Inspired by the energy of the 2022 show, we aim to build on its 25-year foundation and move into the next exciting phase."
The dates for SPATEX 2023, which again will be hosted at the Coventry Building Society, are from January 31 to February 2.