SPATEX countdown has 'Spas-R-Us' tag
SPATEX organisers are taking advantage of the two-month countdown to the wet leisure showcase by declaring that they are targeting hot tub and swim spa specialists with a 'Spas-R-Us' tag for the 21st anniversary edition.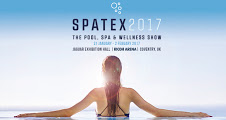 With 22 hot tub market companies already signed and more poised in the wings, SPATEX is being proclaimed as being a 'must-attend' event for anyone involved in the hot tub business in whatever capacity. It is being hosted over three days as part of a new mid-week schedule, from Tuesday, January 31, to Thursday, February 2, in the Ericsson Exhibition Hall of the Ricoh Arena in Coventry.
Staunch SPATEX supporter Certikin International will once again be among the exhibitors with multiple stands and is planning to roll out one of its revamped hot tub big guns as part of the promotion of its exclusive UK distributor status for the Caldera Spas brand, which has been bestowed with a trio of WhatSpa? Best Buy Awards in the tenth anniversary edition of the consumer magazine.
The wet leisure product specialist has announced its stand presence is set to feature the stunning new-look Utopia Series Cantabria, which is different in all but name from its multiple WhatSpa? Best Buy Award-winning predecessor by iconic USA manufacturer Watkins Wellness that gained European and international trade promotion for the Caldera Spas range, which includes the Capitolo and Marino models that have also gained WhatSpa? Best Buy Award status this year, at Piscine Global in Lyon.
A host of leading brands that also recently appeared as exhibitors at Piscine Global earlier this month will now be turning their attention to their preparations for SPATEX. These include Aqua Spa Supplies, part of the Aqua Warehouse Group that distributes L.A Spas and Vita Spa hot tubs and swim spas; Aquavia Spa, Coast Spas, Passion Spas, and Wellis.
Committed SPATEX loyalist Spa Crest Europe, with its additional Tuff Spas hot tubs and Premium Leisure swim spas distributor status, will also be boosting the hot tub and swim spa exhibitor list; while thriving British distributor Rob Carlin will be making his second appearance with his Wellis-manufactured Superior Spas range that is making a big impact in the market with strong sales this year by pedigree dealerships.
With two months to go SPATEX organiser Michele Bridle is now eager to promote the 'Spas-R-Us' theme for the fourth outing of the exhibition in the West Midlands and is urging hot tub and swim spa specialists to book the mid-week dates in their diaries and sign up to attend and take advantage of new product awareness; plus the free double seminar and workshop programme running throughout the three days.
The seminar and workshop schedule includes the 'Commercial Spa Operation' on Tuesday, January 31, from 10.30am to 10.50am, in Arena 1; while the latest guidance on Legionnaires' disease and cryptosporidium is on Wednesday, February 1, from 10.15am to 10.50am in Arena 1. 
There will also be a 'Health & Safety Update' for hot tub and pool operators on February 1st from 2.45pm to 3.05pm, in Arena 1.
"It's a must-attend Spas-R-Us event for anyone involved in the hot tub business in whatever capacity and a fantastic opportunity to catch up on new technologies," said Michele; "Many of which have never been seen before, and to see all of 2017's new commercial and domestic spa models first.
"The 21st edition is not just a feast of new products and innovations, though, as SPATEX will be playing host to a free double seminar and workshop programme that has a strong focus on spas and their operation.
"It's a great opportunity to update skill sets and receive CPD points and certificates of attendance."
To book stand space for SPATEX 2017 contact the SPATEX team via email: helen@spatex.co.uk or michele@spatex.co.uk or telephone directly on: +44 (0) 1264 358558.